Rohingya: Teenage life in world's biggest refugee camp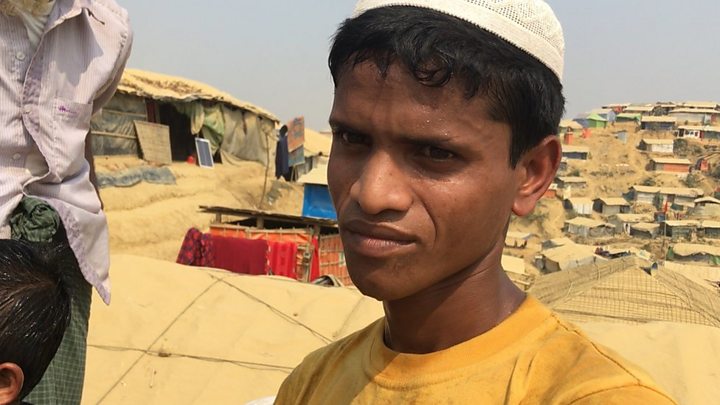 Since last August more than 700,000 refugees have travelled from Myanmar to neighbouring Bangladesh.
They're Rohingya Muslims who say they are trying to escape persecution in their home country.
Many of them have arrived in Bangladesh with stories of murder, rape and arson at the hands of soldiers and Buddhist mobs.
Myanmar's military says it is fighting Rohingya militants and denies targeting civilians.
Those born in the world's biggest refugee camp before the sudden surge of people in 2017 are entitled to much more than those just arriving in Bangladesh.
Faisal and Hassan, whose names we've agreed to change, are both teenagers and members of the Rohingya population - a stateless group of people who aren't recognised as citizens in Myanmar, where they're from.
They both live with six others but lead very different lives to each other.
Like many other 17 year olds around the world, Faisal works in a shop - his family business.
"We sell cosmetics and hygiene products and get around 20 or 30 customers a day," he explains to Newsbeat.
As Faisal was born in the Kutupalong camp, the settlement that's housed Rohingya refugees for decades, he is a registered refugee.
Those arriving now live in makeshift camps surrounding the registered settlement, don't have the ability to work, and rely on aid agencies for support.
"I think I am lucky because my father gave me an opportunity to open this business," he explains. "But with this business I can't lead my whole life."
Most Rohingya have made makeshift homes out of bamboo sticks, tarpaulin and corrugated iron.
But for Hassan things are very different.
Hassan is 16 and moved to Bangladesh six months ago with his family, but can't work or receive an education.
Like most of the newly arrived teenagers, Hassan is grateful he's safe but doesn't like relying on aid agencies for food.
"They give us 30kg of rice, three litres of oil and two packets of pulses," he explains through a translator.
Those supplies feed his family of seven for a week but Hassan says it's not enough.
"It is really painful for us because in Myanmar we used to cultivate food ourselves and we used to get food that was sufficient.
"Here I need to walk a long way and we don't get sufficient food for us."
Hassan carries those supplies on his shoulder once a week across hills and valleys that's around a 90 minute round trip.
"My mind is still [in Myanmar] but because of sufferings and torture we are not willing to go back".
Follow Newsbeat on Instagram, Facebook and Twitter.
Listen to Newsbeat live at 12:45 and 17:45 every weekday on BBC Radio 1 and 1Xtra - if you miss us you can listen back here.