Mother's Day: Remembering my alcoholic mum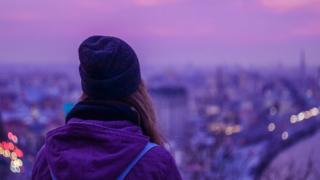 On her first Mother's Day without her mum, Ella (not her real name) shares her story of growing up with an alcoholic parent.
My name is Ella, I'm 26 and for as long as I can remember my mum has been an alcoholic.
My own relationship with alcohol is complex.
That's not because I have a drinking problem - I'm actually pretty good at knowing when to have a drink and when not to - but it's because of two main reasons.
On the surface I'm a sociable person and alcohol has added to some of the funniest memories of my life.
But alcohol has also taken away my relationship with my mother, the person who brought me into this world, the person who loved me and cared for me and swore they would never choose anything over me.
It is for this reason that I both love and hate alcohol. I love the way it can bring people together, and despise the way it can tear people apart.
I had an idyllic childhood. I grew up in a small English town by the sea, my family had everything we needed and a little more too.
We had a detached house, a pet dog and I even went to primary school in a village. What could be more perfect, right?
The trouble is the older I got, the more dependent my mother became on alcohol and the more ill she became mentally.
So my memories of growing up are tarnished by being told I was a waste of space, picking her up slumped on the kitchen top and choosing not to have a birthday party for fear of embarrassment the other kids would notice my mum was drunk.
The list goes on.
Her affair, selling the house, the inevitable divorce, struggling through my exam research when she took the computer, the heartbreak when she took the dog, the lack of birthday cards, the passive aggressive birthday cards, the hospital trips, the denial, the guilt, the blame.
And then there's the loss of a loved one from your life - if not the world.
My mother chose alcohol over myself and my sister.
However, she was very ill. She was an addict in denial, and therefore it's not her actions but the actions of the illness.
It's hard for me and my sister to explain to people why she wasn't in our lives.
For many years, it was hard to deal with the loss of a person who was still alive, still present and existing and functioning in society elsewhere, without you.
It's hard to remember the good times, because my mind chooses to blot out almost everything from when I was a kid so I don't remember the bad.
In psychological terms we are known as 'adult children of alcoholics'.
We have trust issues, we're prone to burnout at work, we feel we are 'different' but we don't know why.
Just like everyone else though, we have good days and bad days.
On the 22 August last year I had a particularly bad day.
We found out she'd had an unexpected heart attack and slipped away.
So this Mother's Day marks the first Mother's Day since she's been gone.
However, she's been absent from my life for almost nine years now.
There are so many moments when I feel, even as an adult, that I wish I could have advice and reassurance from my mum, but it doesn't come.
It's days like Mother's Day which can be incredibly painful for those who have experienced loss, but instead I've chosen to celebrate all the people who have helped raise me.
The 'alternative mums': My dad, my sister, grandad, aunties, cousins, colleagues and friends who have all loved me, taught me and helped me grow.
Despite it all I am very lucky.
Lucky to have had her in my life before the illness took her away, lucky to have an amazing dad, sister and grandad who all helped raise me.
Lucky to have great friends, a great career, and great memories.
And yes, sometimes those memories involve alcohol.
Follow Newsbeat on Instagram, Facebook and Twitter.
Listen to Newsbeat live at 12:45 and 17:45 every weekday on BBC Radio 1 and 1Xtra - if you miss us you can listen back here.