Mental health: 'You shouldn't have to be suicidal to get support'
Interviews by Shiona McCallum
Newsbeat reporter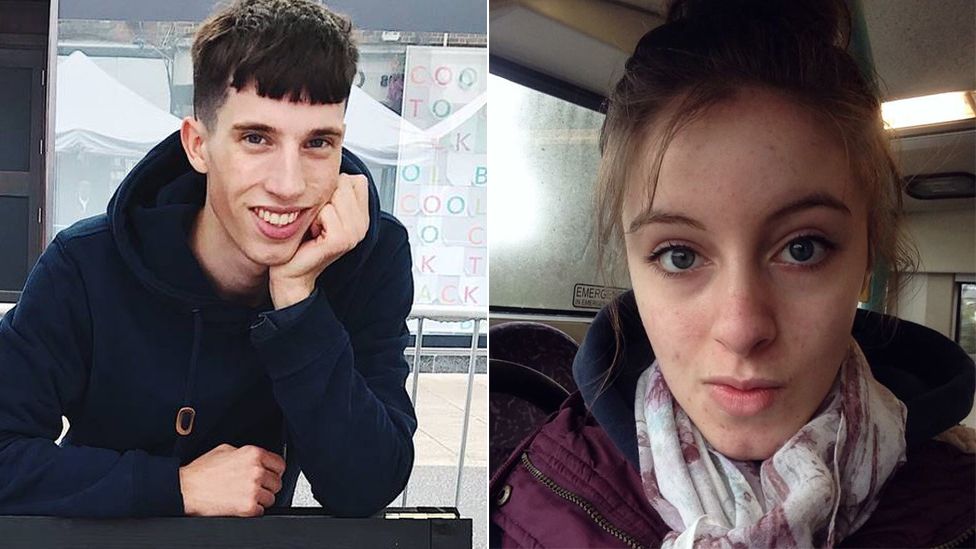 A teenager with an eating disorder was told she "wasn't thin enough" to get mental health support.
It's one of the stories shared in a report about mental health services for children and young people in England.
The Care Quality Commission (CQC) says there are delays in getting access to help because of confusing referral systems and staff shortages.
The Children's Commissioner for England says some children had told her they "felt they had to attempt to take their own life in order to access treatment".
Newsbeat has been speaking to Chloe and George who struggled to get help with their mental health.
'I was having suicidal thoughts'
George is 21 and from Winchester, and says he started having panic attacks after a bad experience taking drugs at a festival.
"It led to me not leaving the house and then... the OCD came, I couldn't touch anything. I had to wash my hands straight away.
"I went to the GP and it was recommended that I go to CAMHS (Child and Adolescent Mental Health Services).
"It took two weeks to get the appointment and at the end of the session they said there would be a 40-week waiting list [for further help].
"I was quite ill, I was washing my hands 50 times a day and I was having suicidal thoughts."
The CQC says children face long waiting lists and inappropriately high eligibility criteria - and it makes it difficult for them and their families to get support.
One young person told the organisation: "You shouldn't have to be suicidal to get an appointment."
George says he eventually got help privately.
He now has his own fashion brand and says he donates some of his profits to a mental health charity.
"We can never say we're cured. We develop our coping mechanisms and I feel you can live a normal life."
Chloe, 17, from Falkirk, says she started experiencing anxiety and low moods after being diagnosed with a physical disability in primary school.
She went to her GP first who agreed that a CAMHS referral should be made.
"We made the initial referral in June and I didn't hear back until late September.
"It was extremely difficult during that time. I started back in high school in August which meant my stress only got worse."
Chloe says she thinks waiting times are the biggest issue and can be hard for young people to deal with.
The boss of the charity YoungMinds agrees.
"Every day we get calls to our Parents Helpline from parents whose children have been waiting up to 18 months for treatment," chief executive Sarah Brennan says.
Chloe is now getting help with her mental health.
"I now see a psychiatrist on a fairly regular basis and it helps to be able to be open about how I feel now."
"As this report shows, we need to see urgent action across the board," says Claire Murdoch, the national mental health director for NHS England.
She says the CQC is right to highlight the need for there to be "better cross-sector working" involving health providers, schools, regulators and government - as well as children and parents.
Scotland's mental health minister Maureen Watt says the government will "continue to support the improvement of mental health services through the £150 million of extra funding we're providing over five years to help deliver our Mental Health Strategy".