Naomi Campbell: Black people are not a trend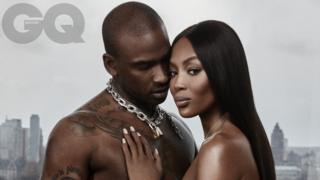 Naomi Campbell says increased representation of black people at the moment is "what it should be and how it should stay".
"If you look at fashion ad campaigns, there's a person of colour in every campaign - and that's a big deal," the supermodel said.
The 47-year-old poses topless with rumoured boyfriend Skepta on the cover of April's GQ magazine.
"This is the new way," she said. "We're not a trend."
Fans went wild when pictures emerged of Skepta and Naomi on the cover of the magazine, with a relationship between the two being speculated for a while.
The 35-year-old grime MC said he didn't want to make a big deal out of two black stars being on GQ's cover because "it's supposed to be like this".
"These magazines are such big deals because they shape how society sees beauty," he said.
"So thank you to everybody who helped us get here and thank you for acknowledging us. But we're still always going to do us."
Naomi said the beauty industry needs to catch up with fashion.
"This is not an attack - we're just making you aware," the model told the magazine.
"Sometimes, people are so involved in their business that they've got no idea what the casting person is doing. So you have to give them a little nudge and say, 'this is just a friendly reminder'. Then after a few friendly reminders, yes, it's more of a statement."
Skepta teamed up with Naomi, who he met at the British Fashion Awards in 2016, to work on a new underwear line as part of his MAINS fashion collection.
The issue, out on Thursday, sees them both posing in the brand's boxer shorts.
They're said to talk about "race, sex, love and power", according to the magazine, and were quizzed on the #MeToo movement to end sexual harassment.
"This is a fight back," Skepta said.
"For a long time, men weren't respecting women. They weren't understanding mother earth, mother nature, the motherland, all the motherly stuff. And now we are."
The big question that everybody wants answered is whether Skepta and Naomi are actually a couple.
Skepta is one of the artists who's helped bring grime fully into the mainstream over the last few years, and his peers are all pretty pleased about this latest achievement.
Naomi is still one of the world's most iconic supermodels.
But she's now also a contributing editor for British Vogue and spends a lot of her time campaigning for various charities and causes around the world.
As far as fans are concerned, all the signs are pointing to a power couple.
Follow Newsbeat on Instagram, Facebook and Twitter.
Listen to Newsbeat live at 12:45 and 17:45 every weekday on BBC Radio 1 and 1Xtra - if you miss us you can listen back here.