Ronda Rousey slams Triple H through table after signing for WWE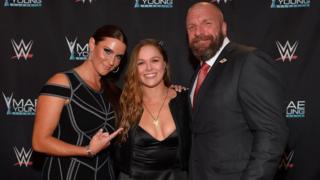 Ronda Rousey marked the first day at her new job by slamming her boss through a table.
The Olympian and former UFC champion entered the ring at WWE's Elimination Chamber event to sign her professional contract in front of a crowd cheering her name.
But after being wound up by WWE executive Triple H, she showed fans exactly why she'd been signed.
"The night definitely could have gone smoother," she said after the event.
It had all started so well.
Ronda, who took the nickname "Rowdy" with wrestling legend Roddy Piper's blessing, received a glowing introduction from WWE's executive vice president Triple H.
"An athlete of this calibre, I cannot recall walking through these doors since an Olympic gold medallist named Kurt Angle.
"This athlete has broken down every barrier put in front of her. She was a judo champion, an Olympic medallist.
"In MMA, they created entire divisions solely for her.
She has earned the right, in my opinion, to be called the baddest woman on the planet."
But, moments later, Raw boss Kurt Angle interrupted the contract-signing ceremony to suggest Triple H and WWE commissioner Stephanie McMahon felt they now "owned" Ronda.
After a tense stare-down with Stephanie, Ronda turned around and body slammed Triple H.
It's not the first time Ronda has clashed with Triple H or Stephanie - she put the latter into her famed armbar hold during a cameo with The Rock at Wrestlemania in 2015.
A match for Ronda at Wrestlemania 34 on 8 April has been confirmed - and it's been suggested that The Rock and Ronda (or Ronda and Kurt Angle) could team up to face Triple H and his wife Stephanie.
Although there are plenty of people in the WWE universe who want a piece of the 31-year-old.
Ronda joined the WWE after losing her final two matches with the UFC.
The judo expert is credited with almost single-handedly building a women's division in MMA's premier competition, and held the bantamweight title for a record amount of time.
Fans enjoyed her first proper appearance with the WWE, although some think she could use some training on the microphone.
Rowdy has previously said that wrestling is her "life" now - so no doubt there will be plenty of time for her to get used to the entertainment side of the business.
Listen to Newsbeat live at 12:45 and 17:45 every weekday on BBC Radio 1 and 1Xtra - if you miss us you can listen back here