Why I support my striking university lecturers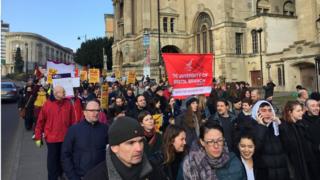 Students joined their lecturers at rallies across the country on Thursday as they started four weeks of strike action over cuts to their pensions.
Florence pays £9,000 per year to study classics at Bristol University.
"I have an exam in a couple of weeks and they're not sure who is going to be invigilating it.
"But to be honest I sort of understand because I think that for your pension to be cut that drastically is quite a big deal."
Tutors say the drop in pension could leave them up to £10,000 a year worse off in retirement.
Alex says they've been left with "no choice" but to strike.
"I'm a post graduate history student, and of course I want to be in my lectures today.
"I want to be studying and getting ready for my deadlines and I'm sure all the lecturers here also want to be inside teaching.
"No one really wants to be put in this position.
"But the pension plan is so dire that it's basically left no choice but industrial action.
"Students and lecturers have come together today to say that this is more important than just the cost of a lecture."
Despite Robbie's dissertation being due soon he agrees.
"I only have one day of actual uni to talk to my professor before it's due.
"Dissertation is a big deal, but at the same time I respect what they're doing. I think what they are doing is really important."
That hasn't stopped him for applying for a refund on his fees though.
"I will apply for a refund because we have been told to apply. I don't know if I will necessarily get it - but I'll apply."
And Florence says she's signed a petition, like many other students across the country, calling for the university to partially refund their fees for lost teaching hours.
"I've signed a petition for fees to be refunded but the likelihood of this happening is so slim.
"I mean it would be nice, but it's not going to happen."
Despite over 70,000 signatures combined on the various petitions for the different universities, none have offered refunds as of yet.
Newsbeat spoke to Bristol University and they said there are no plans to provide financial reimbursement for any specific missed teaching sessions due to industrial action.
"Student tuition fees pay for a wide range of student facilities and services, in addition to tuition, which will continue to be available.
They say they will "do all we can to reduce the impact this might have on the students".
Listen to Newsbeat live at 12:45 and 17:45 every weekday on BBC Radio 1 and 1Xtra - if you miss us you can listen back here