The next CS:GO Major Championship to be held in London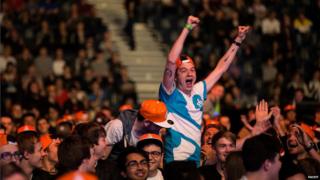 The CS:GO Major is one of the biggest eSports events in the world, and the next one will be held in London.
Given the scale and viewership of previous Majors, this is expected to be the most significant eSport event ever held in the UK.
This September, 24 of the best teams in the world will compete for a $1 million prize pool (£720,000) at the Wembley Arena.
It's expected the venue will sell out and millions of fans will watch online.
First person shooter game Counter Strike: Global Offensive is one of the most popular eSports.
Its Major Championships are a chance for fans to see which team can claim to be the best in the world.
It stands on a par with the League of Legends World Championships and the DOTA 2 International as one of the most prestigious annual eSports events.
James Reader known as RouStream on Twitch dedicates his channel to the game.
He tells Newsbeat why the event is such a big deal: "You just get to see the best play the game.
"It's like a World Cup for Counter Strike fans, they come round once or twice a year and you can never expect what's going to happen.
"There's highlight reel stuff happening all the time and new storylines emerge from each tournament."
FACEIT, a UK-based eSports events company were successful in their bid to bring the competition to London.
They will run the event including the online qualifiers, ahead of the finals.
Michele Attisani, co-founder of FACEIT tells us: "This is the biggest event we have ever organised, one of the biggest globally.
"It will be the largest eSports event in the UK's history in terms of size and viewership.
Michele says it's due to "an appreciation of how the fans and community have been growing the scene" in the UK.
"It's one of the fastest growing countries in terms of viewership," he added.
"Having events like this is a validation of the UK eSports market."
The previous CS:GO Major, held in the US, broke a record for the most concurrent viewers of an English-language eSport event with 1.13 million fans tuning in to watch the final match.
Last year forecasters predicted eSports will generate more than £1bn in global revenue and almost double its audience to nearly 600 million people by 2020.
Ten thousand tickets for the FACEIT CS:GO London Major will go on sale on 1 April.
Listen to Newsbeat live at 12:45 and 17:45 every weekday on BBC Radio 1 and 1Xtra - if you miss us you can listen back here