Este Haim says sorry to Cheryl over 'mystery drunk woman' videobombing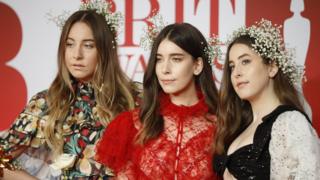 Este Haim has called Cheryl to say sorry after videobombing her and Liam Payne at the Brits.
As the couple chatted to host Jack Whitehall the bassist from Haim was mouthing the words 'call me' and suggestively winking behind them.
The clip went viral, except it seemed nobody recognised her and she was labelled the "mystery drunk woman".
Este rang Cheryl to apologise on the Radio 1 Breakfast show saying there was "no beef" between them.
The 31-year-old was concerned Cheryl might not see the funny side.
She also invited Cheryl to the band's London show in June.
Cheryl and Liam were being interviewed by host Jack Whitehall when Este Haim stole their limelight.
Lots of reports on social media referred to her as the "mystery drunk woman".
"I was just having a great time, I was just living my living my life", she told Grimmy.
"I was completely sober."
"If you put a camera on me, I'm going to have a good time.
"I'm on."
Nick Grimshaw said: "So we solved the mystery, the very drunk women is a sober woman and is actually very famous."
Este says she didn't even know what they were talking about.
"We were all wearing flowers in our hair," she told Grimmy.
"It was so funny, literally our table was dying."
Este's fans were loving it.
Haim were nominated for Best International Group at the Brits.
The award went to Foo Fighters.
The group popped in to chat to Grimmy the morning after the Brit Awards.
Listen to Newsbeat live at 12:45 and 17:45 every weekday on BBC Radio 1 and 1Xtra - if you miss us you can listen back here