Brit Awards 2018: Stormzy asks PM 'where's the money for Grenfell?'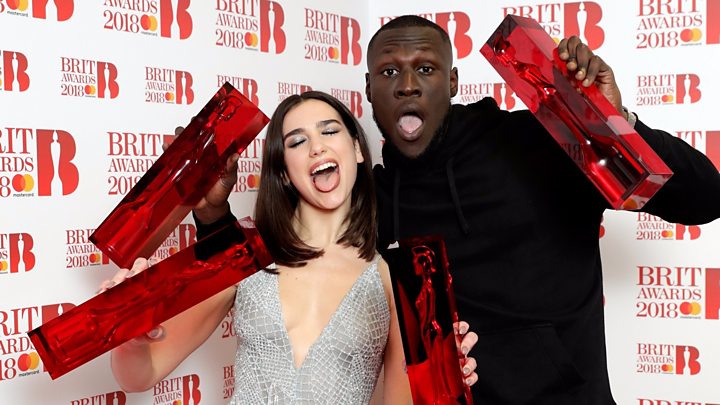 Stormzy used his Brit performance to take a swipe at the prime minister over Grenfell.
He closed the show after winning two awards and rapped, "Yo, Theresa May where's that money for Grenfell? What you thought we just forgot about Grenfell?"
Downing Street insists the government has committed £58m to those affected.
The fire killed 71 people and left hundreds homeless in June 2017.
The government added: "The public inquiry was set up by the PM to establish what went so tragically wrong and why people weren't listened to for so many years."
Stormzy took home the award for best British male and best British album for Gang Signs and Prayer.
He performed his hit song Blinded by Your Grace to end the show and then launched into his rap.
After calling out the prime minister he went on: "You criminals, and you got the cheek to call us savages.
"You should do some jail time you should pay some damages, we should burn your house down and see if you can manage this."
In the November budget, the Chancellor Philip Hammond said an extra £28m would be going towards helping victims of the Grenfell fire.
He said funding would go to Kensington and Chelsea Council in west London - where the tower is - and would pay for mental health services and regeneration.
The council said the money would support mental health services in the area, alongside existing NHS agencies.
It would also pay for a new community space and refurbishment of the Lancaster West estate in west London.
Stormzy spoke to Newsbeat after the show about the rap and the reference to Grenfell.
He said: "I didn't want to just come here as an artist like 'It's the stormzy show' [and] clean up at the Brits - it's all about me.
"This is bigger than me [and] if I can use my voice to say something that's bigger than me.
"I don't want this to be about me. It's not about me - it's about Grenfell and it's about all the things I said in that lyric.
"This is bigger than me."
The rapper was praised for his performance on social media including from Jeremy Corbyn.
The vast majority of money that was donated has now reached survivors and relatives.
Listen to Newsbeat live at 12:45 and 17:45 every weekday on BBC Radio 1 and 1Xtra - if you miss us you can listen back here