Black Panther's universe features an 'independent Wales'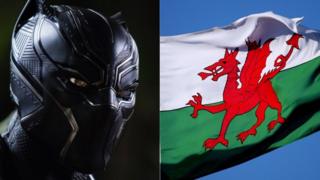 Black Panther has been praised for the positive image it presents of Africa through the fictional country of Wakanda.
The film has also got viewers excited over another country it seemingly paints in an empowering light.
When Wakanda's King T'Challa presents at the United Nations, he stands on stage alongside a Welsh flag.
It's left viewers wondering whether Wales is independent in this Marvel universe.
Wales is of course part of the United Kingdom, and at the UN is represented by the Union Jack flag.
But a scene that comes after the film's credits has got many eagle-eyed Welsh viewers excited, as the Baner Cymru (or Y Ddraig Goch) is on proud display on stage.
Welshman Leigh Jones, who works for a record label in London, said the flag's inclusion made him proud.
"It seemed too good to be true, but when I saw the screenshot I was incredibly happy and proud because of the context."
He also had some good theories as to why Wales is seemingly independent in this Marvel universe (Marvel has been contacted for comment).
"When the Welsh language and independence movements began gaining momentum in the 1960s, they saw themselves as part of a global struggle for civil rights at the time, which was being led by black Americans.
"Whether this is acknowledgment of that fellowship, or somebody working on SFX trying to suck up to the general manager of Lucasfilm (a Welsh person), doesn't really matter," he says.
"It's just brilliant to have recognition of Wales as a separate nation on a global scale when we even struggle to get that recognition within the UK."
Other theories posted by fans include the flag's cameo being a nod to little-known Marvel hero Y Ddraig Goch - which literally translates to The Red Dragon.
He appears in comic book Earth-616 and is described as the protector of Wales, as well as a former crime lord.
Polls suggest that when presented with different options for how Wales should be governed, an average of 6% of the Welsh population would choose independence.
When asked by YouGov in 2017 to rate their support of independence between zero and 10, 26% chose a number above five.
The Welsh government seems excited about being included in such a huge film.
A spokesperson said: "From flags to filming locations to record breaking dramas and feature films, Wales continues to punch above its weight - a real life Marvel."
Listen to Newsbeat live at 12:45 and 17:45 every weekday on BBC Radio 1 and 1Xtra - if you miss us you can listen back here