Vogue publisher Conde Nast bans models under 18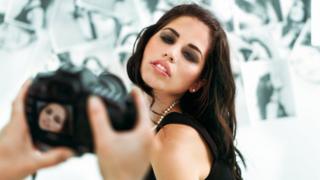 Models aged under 18 will no longer be used by Vogue publisher Conde Nast.
The company has introduced a new code of conduct following claims of harassment and sexual misconduct in the fashion and entertainment industry.
The guidelines say any shoot involving nudity, sexual poses or revealing outfits must be agreed by the model before the shoot.
They also ban the use of drugs and alcohol.
Marin Daley Hawkins began modelling when she was 16.
"It's so depressing that in 2018 we're having to point out it's wrong to sexually harass someone on the set of a shoot," she tells Newsbeat.
Now 24, Marin's had personal experience of being made to feel uncomfortable at work.
"You arrive at a job and one out of 20 looks will be swimwear," she says.
"You haven't been told it's a swimwear shoot, a stylist just hands you a bikini and says 'off you go'."
Under Conde Nast's new code, that sort of thing must be agreed before the shoot.
It's already meant to happen across the industry but Marin says that's not always the case.
"People have said 'oh you've got to do it, you're a model'. If you're young and inexperienced, it's hard to be strong and stand up for yourself."
"You're seen as a mannequin which is completely outrageous," says Marin.
In January, the company said it wouldn't work with photographers Bruce Weber and Mario Testino "for the foreseeable future" over claims of sexual exploitation.
Mr Weber denies the claims, while lawyers for Mr Testino said his accusers "cannot be considered reliable sources".
The full guidelines, published in Vogue, also list types of behaviour considered inappropriate on a shoot.
They make clear no-one should be made to feel their career could suffer if they reject sexual advances - in a clear echo of the Hollywood Harvey Weinstein scandal.
"Almost everyone I know who's female in the industry has got an experience where they've raised something on set," says Marin.
"It's a real shame we haven't been listened to before. It's just true that you need a crisis before things are dealt with. But this is a positive step."
Of course, this code of conduct only applies to Conde Nast shoots. Marin hopes other parts of the industry will do something similar.
She says some of her worst experiences have been on live fashion shows.
"You've got two minutes before you're due on the catwalk, you have an outfit thrown at you and you realise it's sheer.
"You haven't been given anything to wear underneath. In that pressure situation, it's very hard to say 'no.'"
Listen to Newsbeat live at 12:45 and 17:45 every weekday on BBC Radio 1 and 1Xtra - if you miss us you can listen back here