Bake Off's Ruby Tandoh: How sharing food helps my mental health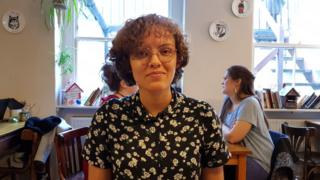 GBBO runner-up Ruby Tandoh says sharing meals with friends has helped her talk about her mental health.
The 25-year-old's new book Eat Up! celebrates the positive effect food has had on her depression, by getting her to start conversations with friends and family.
"Like a lot of people, I'm not particularly good at talking about how I'm feeling," Ruby says.
But she finds being cooked for "healing".
"When I know someone has made that effort, I know they want me to feel good," she tells Newsbeat.
It might seem surprising that someone who makes a living as a food writer once suffered with an eating disorder.
But, from the age of 15 to her early twenties, Ruby says she veered constantly between binging on and purging herself of food.
"I didn't even realise I was ill," she says.
"Our culture values dieting, restraint and self control, so if you're doing those things it makes you feel it's a virtuous cause and not an eating disorder.
"Those lines are really blurry and that's why I was able to do it without realising anything was up.
"I actually think that learning to bake was part of recovery for me," she says.
The columnist says before applying for the Great British Bake Off in 2013, she only knew the basics of cake making.
"I know it's counter-intuitive, immersing yourself in food if you have this history [of eating disorders].
"But there's a lot of comfort that comes from surrounding yourself with food and learning to see that it's interesting and valuable again."
It's not just her that food has helped open up - she's also used it to get loved ones to talk.
"A few months ago my girlfriend's grandmother died. She was from the Philippines, and Leah didn't have chance to say goodbye, so I made her a Filipino dish when she got home from work that day," she says.
"It turned out it tasted nothing like her grandma's cooking, but it meant something to her. It helped her talk about it."
Research for the mental health campaign Time to Change shows two-thirds of people in the UK don't know how to talk to their loved ones about how they're feeling.
More than 2,500 people were surveyed for the mental health campaign, which is backed by charities Mind and Rethink Mental Illness.
Ruby says she's found it useful to be direct with her friends.
"Sometimes you have to approach things the way a mum would approach things. You know how mums often just say 'you look really upset today, what's gone on?' You have to have that directness with your friends.
"And for most people it won't hurt to give them a cup of tea."
Visit the BBC Advice pages for information on coping with eating disorders and mental health.
Listen to Newsbeat live at 12:45 and 17:45 every weekday on BBC Radio 1 and 1Xtra - if you miss us you can listen back here