The story behind the purple ribbons at Trump's State of the Union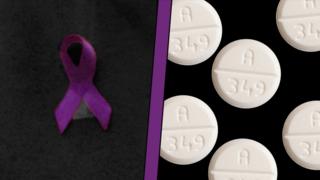 You might have spotted purple ribbons when Donald Trump gave a big speech to Congress last night.
Democratic senators wore them to highlight the US opioid crisis.
In 2016, more than 42,000 people in the US died of drug overdoses linked to the strong painkillers - the worst year in history.
And life expectancy fell last year for a second year running, which experts said was partly down to the national problem.
Jeanne Shaheen, the Democratic senator for New Hampshire, led the campaign by handing out ribbons to her colleagues.
Her state has been one of the worst affected by drug-related overdoses.
The term 'opioid' refers to both legal painkillers like codeine and morphine, and illegal substances such as heroin and fentanyl.
The legal drugs are generally safe to be taken for a short time, when prescribed by a doctor for particular health conditions, but they can be highly addictive.
On Tuesday, Mr Trump addressed the problem he has previously called a "public health emergency".
"We must get much tougher on drug dealers and pushers if we are going to succeed in stopping this scourge," he said.
"My administration is committed to fighting the drug epidemic and helping get treatment for those in need, for those who have been so terribly hurt.
"The struggle will be long and it will be difficult, but as Americans always do, in the end, we will succeed."
But his Democratic rivals have criticised the president for not taking enough action to stop them being widely distributed.
"Over the past year, President Trump has only devoted lip service to respond to the opioid epidemic," Senator Shaheen said in a statement after the State of the Union.
"Instead of any meaningful action, the Trump administration has made numerous attempts to undermine existing programmes that have proven to be critical in battling this crisis.
"The urgency of this lifesaving effort cannot be overstated."
US public health organisation Centers for Disease Control and Prevention (CDC) recommends doctors avoid prescribing opioids when possible.
It also says patients should be regularly monitored for signs of addiction.
People can be treated for addiction in several ways, including taking a course of lower strength opioids, and counselling.
Listen to Newsbeat live at 12:45 and 17:45 every weekday on BBC Radio 1 and 1Xtra - if you miss us you can listen back here