How US rapper Lil Uzi Vert helped the tiny Shetland Islands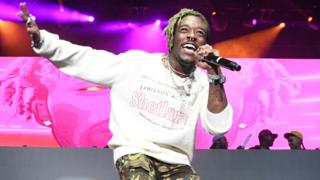 Lil Uzi Vert made a Shetland wool company "proud" after he wore a jumper with its name on.
The US rapper performed in a knitted sweater with "Jamieson & Smith, Shetland" on the front during a gig in Atlanta, Georgia last year.
"It was cool to see an American rapper wearing our company name," says Ella Gordon, who works for J&S.
"We've had people come into the shop, ask all about it and take photos of a similar jumper we have on display."
Ella, 27, added: "I think it's helped our business, and hopefully the whole of Shetland."
Wool is big business in Shetland, where there is a ratio of roughly 13 sheep for every one person living on the islands.
J&S handles 85% of all wool on the isles, and European fashion label Dries Van Noten contacted the company to buy some.
"Dries Van Norten also asked if we could send some examples of our logo. I thought they'd sew them into the inside of the clothes," says Ella.
What they didn't realise is the logo would be worn on the front of the collection and worn by models at Paris Fashion Week.
Somehow, a version of the jumper then ended up in Lil Uzi Vert's hands and he wore it while performing at Streetz Fest, alongside the likes of Young Thug and Cardi B.
J&S got wind of the surreal connection when they were tagged in an Instagram post.
Ella says it was "crazy" and thinks Lil Uzi Vert "did the company proud".
It's unclear whether the rapper knows where Shetland is, although she hopes "he at least searched for us online".
"It has been weird seeing our company name associated with a different audience for Shetland wool," says Ella.
"We got a lot of people commenting on it, saying how amazing it was. It's a bit surreal, but overall amazing."
Listen to Newsbeat live at 12:45 and 17:45 every weekday on BBC Radio 1 and 1Xtra - if you miss us you can listen back here