'Hundreds of ex-Carillion apprentices still out of work'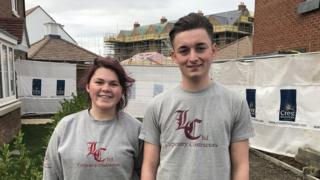 Hundreds of former Carillion apprentices are apparently still out of work.
The UK's second-largest construction business went bust two weeks ago after racking up debts of around £1.5bn.
The Construction Industry Training Board says just over a third of the company's 1,400 former apprentices have received new job offers.
It's urging anyone who needs help getting a new apprenticeship to get in touch.
Teenager carpenters Rebecca Moss and Charley McDowell are two of its success stories.
"I was on the way to work and it comes on the radio that Carillion has gone in to liquidation," 18 year-old Charley says.
"The next few days were really stressful and demotivating.
"We had no idea what was going to happen. Whether we would still be on our apprenticeship. Whether we'd still qualify. Whether we still had a job."
Local construction boss Lee Higgins agreed to take the pair on, but others haven't been so fortunate.
The CITB, who have taken charge of looking after all former Carillion apprentices, say they've managed to sort job offers out for 533 people.
"We've had calls from concerned parents and young people," says Helen Sheen from the CITB.
"I think the communication hasn't been as good as it might have been.
"But please get in touch with us. We are here and we are ready to support you in to work."
Rebecca, 19, has a friend who is still looking for work following the company's collapse.
"Fingers crossed for him that he finds something," she says.
"But we could have been in that position where you are just left with nothing.
"I think I've had one or two emails from Carillion and they were just standard emails.
"In a way you feel abandoned, but it's good that we've got a safety net now."
Listen to Newsbeat live at 12:45 and 17:45 every weekday on BBC Radio 1 and 1Xtra - if you miss us you can listen back here