Stefflon Don apologises for old tweets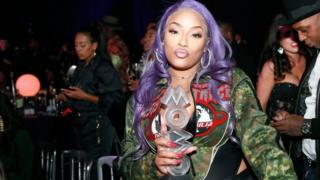 Stefflon Don has apologised for tweets from 2013 saying "dark-skinned" girls would change their skin colour if given the choice.
She initially denied it, but has since posted an apology which has been criticised.
The latest tweet said "sorry if anyone took offence".
Newsbeat has reached out to the London-based artist to get her side of the story, but we've not heard back.
Screengrabs of the deleted tweet, which Newsbeat didn't see, have been circulating on Twitter.
It calls out "dark-skinned" women "hating on light-skinned" women and says: "Don't act like if god gave you a choice you wouldn't change your colour lool".
The 26-year-old won Best Female at the most recent Mobo Awards and narrowly lost out to Jorja Smith in the 2018 Brits Critics' Choice category.
She denied posting the tweet and showed examples of positive posts she's done that support black women.
Then, on Monday morning, she said sorry.
For some her words didn't go far enough.
Some think that five years is a long time.
And others have pointed out that five years ago Stefflon Don would still have been in her twenties.
It's not the first time the rapper's tweets have proved controversial.
In September 2017 she was under fire for criticising people who work nine-to-five as cleaners, saying "how could you wake up everyday and work for someone else's dream 4 sum chump change?"
Other stars to recently receive negative attention for old posts on social media include Zoella, Jack Maynard and Phil Neville.
All three have publically apologised and Maynard left the I'm a Celebrity Jungle to deal with the situation.
Listen to Newsbeat live at 12:45 and 17:45 every weekday on BBC Radio 1 and 1Xtra - if you miss us you can listen back here