Get naked and start some building work - how to bag a sunbed without paying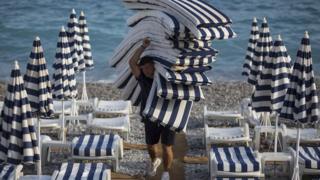 As you step outside and gaze across the acres of white flesh turning pink in the foreign heat, there's only one question on your mind.
Where am I going to sit?
One tour operator has come up with a solution, offering people the chance to pay and reserve their sun loungers, before they even depart for their holiday.
But if you don't want to stump up £22 for the privilege, here are some alternative ideas for bagging the best spot.
Create a sealed off area
It's almost scientifically proven that if a human stumbles across a bit of tape strung across two points with the words "do not cross" written on, they'll unquestioningly obey.
All you need is to spend an evening perusing local crime scenes and "borrowing" some of the police tape.
Then simply create a cordoned off area in your desired spot - then breeze down the following morning (ideally wearing hi-vis and holding a walkie talkie) before theatrically removing the tape and plonking yourself down.
Pretend the sunbeds are reserved for young families
Yes, yes, we all love children.
But not when you've booked an adults-only hotel especially because it promises "a tranquil haven away from the hustle and bustle of everyday life".
What then could be worse than being greeted by a sea of sunbeds all brandishing a sign saying "reserved for toddlers" - even if they're right next to the pool-side bar and pizza kiosk?
You're guaranteed the pick of the bunch, as other holidaymakers try to put as much distance as possible between themselves and a screaming one-year-old.
Start some building work
This requires some props, ideally a pneumatic drill and cement mixer.
Admittedly, if you're not prepared to pay the £22 sunbed fee, it's unlikely you'll be up for finding the cash required for the oversize bag penalty these will require if flying.
But as an idea, it's foolproof.
Similar to the threat of screaming children, people have been known to demand a move to an entirely different hotel, even country, rather than have to put up with building work that wasn't mentioned at time of booking.
Get naked
This obviously comes with the threat of arrest, being punched and violating various local customs and public order offences - so it's possibly just one for the desperate.
But as an idea, it's fairly straightforward. Strip off and then boldly stride around, while possibly pretending to talk very loudly on your phone.
You should start to clear an area pretty fast.
The only problem is that other British people might be too embarrassed to cause a scene and so will just tut quietly, pull up their newspaper and wait until the problem goes away.
It's possible you won't want to try any of these tips, in which case you just have to follow the tried and tested method.
Get up at 4am and throw that towel down.
Listen to Newsbeat live at 12:45 and 17:45 every weekday on BBC Radio 1 and 1Xtra - if you miss us you can listen back here