Darts girls: More than 15,000 sign petition to reverse walk-on ban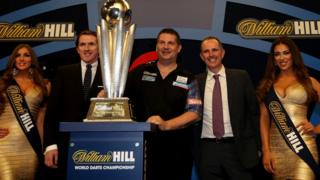 More than 15,000 people have signed a petition to reverse a ban on walk-on girls during darts matches.
"Not only would we break tradition but women would be out of work also," wrote David Shaw who created the online document.
Earlier this week The Professional Darts Corporation (PDC) announced it would no longer use walk-on girls in its tournaments.
Some fans and players say the ban takes away a key part of the experience.
Anyone who's had the pleasure of soaking up a live darts match will know cries of, "180" usually get the biggest cheers - closely followed by the noise as the walk-on girls lead the players to the stage.
Although some people have accused the sport of being stuck in the past, and say the role is demeaning.
However model Charlotte Wood who is one of the best known walk-on girls on the darts circuit has spoken out against the ban.
"Wow 10k signatures in 24 hours! A big thank you for everyone's support," she wrote on Twitter.
The 29-year-old said her "rights are being taken away" and darts accounts for 60% of her income.
However some players including world number one Michael van Gerwen, have said the tradition should end.
David Shaw who created the petition says the aim is to get 25,000 signatures before presenting it to Barry Hearn, chairman of the PDC.
The Women's Sport Trust tweeted: "We applaud the Professional Darts Corporation moving with the times and deciding to no longer use walk-on-girls. Motor racing, boxing and cycling... your move."
Formula 1's new owners said in December that they are looking into whether the sport should continue to use ''grid girls''.
Former world champion Raymond van Barneveld is supporting the move to reinstate the walk-on girls.
Listen to Newsbeat live at 12:45 and 17:45 every weekday on BBC Radio 1 and 1Xtra - if you miss us you can listen back here