Celebrity Big Brother star Dapper Laughs proposes on live TV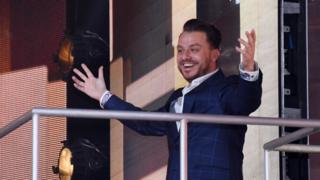 It should come as no real surprise that Dapper Laughs chose a live TV moment to propose to his girlfriend.
After all, he's made his name filming far less exciting moments in his life and uploading them.
"When I was in the house every day I regretted I never asked you so, will you marry me?"
The comedian popped the question to girlfriend Shelley Rae just minutes after leaving the Big Brother house - she said "yes".
As for the ring, with him having no access to the outside world for the past four weeks - he presented Shelley with a bright pink and ''diamond'' oversized piece he'd made during his stay in the house.
A Twitter post later revealed he'd had help from fellow housemate and RnB singer, Ginuwine, in making it.
Dapper Laughs, real name Daniel O'Reilly, and model Shelley Rae have a one-year-old daughter, Neve.
There were huge screams and shrieks from the studio audience as he got down on one knee for the proposal.
Dapper Laughs left the Big Brother house alongside The Apprentice contestant Andrew Brady and Love Island's Jonny Mitchell.
The comedian said he hoped his time spent on the show has redeemed him from being "the most hated man in the UK".
The 33-year-old had a tour and TV show axed in 2014 after a video emerged of him telling an audience member she was "gagging for a rape".
"If I've come out of this and people look at me slightly different, then fantastic, but all I wanted to do was prove I wasn't as evil as maybe I was portrayed as before," he told Celebrity Big Brother presenter Emma Willis.
"I will be getting back on tour. A TV show is obviously the complete redemption. I'd love to get back on TV," he added.
As well as Dapper Laughs' engagement there was another surprise during last night's live eviction.
Housemates were warned that intruders were trying to enter the Celebrity Big Brother compound.
Two men, one wearing a high-vis jacket were spotted by cameras trying to gain entry to the site.
"Two intruders attempted to enter the Big Brother house on Friday night," a Channel 5 spokesperson confirmed.
"They were apprehended by security in the garden. Police were in attendance and removed them from site. Big Brother has reassured the housemates and all is calm in the house."
Listen to Newsbeat live at 12:45 and 17:45 every weekday on BBC Radio 1 and 1Xtra - if you miss us you can listen back here