Alternative Sky dish uses for the soon-to-be redundant satellites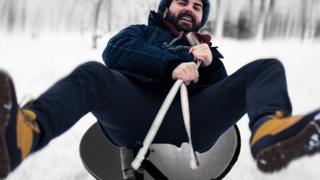 Sky has announced that it plans to make all its channels available online, meaning there will no longer be a requirement to have a dish.
It will introduce the online channels in Italy first, followed by Austria, and the UK is expected to follow later this year or in 2019.
There are currently 12.9 million Sky customers in the UK and Ireland.
That's a lot of Sky dishes that will potentially be out of a job - but they needn't actually go to waste.
It's made of metal, it's a bowl shape - how about transforming that dish into a wok?
Granted, the oil will likely fall through the holes - but that makes it healthier, right?
If the holes must be considered, maybe a colander is a good suggestion?
It looks pretty perfect for draining those greens.
But for something that has spent its working life outside, the kitchen might not be the perfect home.
Why not pop it in the garden for your resident mouse to have a bit of fun skateboarding in her very own bowl?
Oh, it's raining outside and you've lost your coat? Never fear, the thoroughly terrible Sky umbrella is here.
There's no water in this bird bath - much to these guys' confusion.
It seems the holes really are causing a problem.
Some people say they don't have Sky because they don't want a dish on the outside of their house.
So the move to online could be great news for the TV company.
And also anyone who likes to don a pretty fascinator.
It could catch on?
Listen to Newsbeat live at 12:45 and 17:45 every weekday on BBC Radio 1 and 1Xtra - if you miss us you can listen back here