Mo'Nique takes on Amy Schumer in a row over Netflix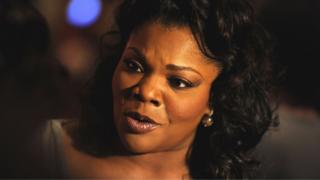 Mo'Nique is calling for a boycott of Netflix after the company allegedly offered her less money than Amy Schumer and Chris Rock for a comedy special.
The comedian, an Oscar winner, claims Netflix is guilty of gender and racial bias.
Mo'Nique says the streaming service offered her $500,000 (£350,380), much less than the $13million (£9.1m) Amy Schumer reportedly earned for hers.
Netflix is yet to respond to a request for comment.
Comedy legend Dave Chappelle was reportedly paid $20m (£14m) for each of his three 2017 specials, while Chris Rock is expected to receive the same for his upcoming shows.
Mo'Nique has posted numerous videos to Instagram discussing the alleged offer.
"Hey my loves, I am asking that you stand with me and boycott Neflix for gender bias and colour bias," Mo'Nique said on Instagram.
Netflix offered her less because that's how much the company believed she would bring to the service, Mo'Nique claims.
"We asked them 'what was it about Amy Schumer?' And they said 'well, she sold out Madison Square Garden twice and had a big movie over the summer.'"
Mo'Nique says the streaming service admitted she was a "legend" like Chris Rock and David Chappelle, but wasn't worth as much to them.
"Why shouldn't I get what the legends are getting? Please stand with me on this boycott of Netflix," she ended.
Four days after her initial post, Mo'Nique and her husband put up another video saying they wanted to do some fact checking on her bankability in comparison to Amy's.
Mo'Nique claimed Amy's 2017 film Snatched only earned slightly more than her own 2016 film Almost Christmas, despite having a much higher budget.
"Amy Schumer's budget for Snatched was $42m (£31m).
"Almost Christmas's budget was $17m (£11.9m) and it made $42m," she said.
"Could somebody please make it make sense? And can you see the disparity in that number and what bankability really is?"
Snatched made $45.8m (£32m) domestically, according to Box Office Mojo.
Amy retrospectively renegotiated The Leather Special deal with Netflix last summer.
Her team reportedly asked Netflix for more money after hearing what Chris Rock and David Chappelle were getting for theirs.
She said at the time that while she believes women deserve equal pay: "I don't believe I deserve equal pay to Chris and Dave. They are legends and two of the greatest comics of all time."
Netflix has previously said that it doesn't comment on contract negotiations.
Listen to Newsbeat live at 12:45 and 17:45 every weekday on BBC Radio 1 and 1Xtra - if you miss us you can listen back here