Drake and Pusha T: The controversial history of blackface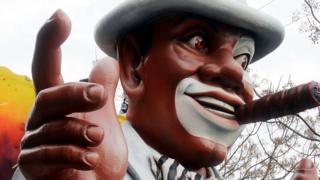 Blacking up. You've probably got an instant reaction as to whether it's acceptable or not.
And as Drake's been finding out this week, there's no shortage of people willing to share their opinions.
The rapper's faced huge reaction since arch-rival Pusha T posted a 2007 photo of him in blackface.
Drake's defended the photo, saying it was taken to highlight and raise frustrations about black actors "not always getting a fair chance in the industry".
While some are shocked that Drake wore blackface, others on social media argue that someone whose dad is African American has the right to black up.
Warning: Some people may find the images in this article offensive.
The centuries-old practice is rooted in depicting a negative stereotype of black people in Europe and the US.
White actors would paint their faces black and play caricatures of black people.
"They were essentially ridiculed or feared," says Dr Kehinde Andrews, Associate Professor in Sociology at Birmingham City University, who is also the co-chair of the Black Studies Association.
"It's a tradition rooted in racism which is very much about the fear of black people and the laughing at black people."
That's why it's still seen as such an issue, whatever the motive.
Late last year, white footballer Antoine Griezmann posted a photo of himself in blackface and fancy dress as a basketball player.
Around the same time, Star Sports Bookmakers tweeted a picture of a white man in blackface, dressed as the Labour MP Diane Abbott.
In both cases, they initially defended themselves.
Antoine Griezmann said: "Calm down everyone. I'm a fan of the Harlem Globetrotters and this is a tribute."
Star Sports tweeted: "We thought it was a very impressive attempt at fancy dress and merely shared it with our followers. Please stop taking things so seriously."
Both the footballer and the bookies eventually apologised - but they were defended online by people, including those who said that a "tribute" is not racist.
But Dr Kehinde Andrews doesn't buy that argument.
"It's not a benign tradition," he says. "It's almost like they've forgotten where the tradition comes from."
"Blackface is a really longstanding issue and negatively racial across Europe.
"You see it from Shakespearean times onwards, this figure of white people blacking up.
"It's either seen as a devil or a danger - or as a way to take the mickey out of people."
In Cornwall, the annual tradition of "Mummers Day" - held between Boxing Day and New Year's Day - sees people blacking up, Morris dancing and singing songs.
It still goes on today.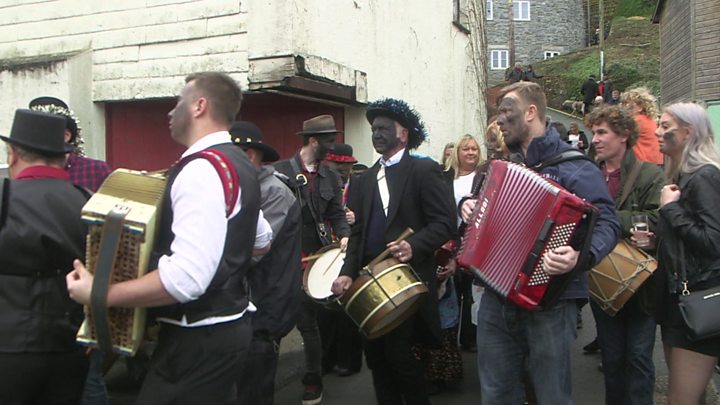 Some locals told the BBC last year that the event isn't racist. The tradition began when their ancestors helped some slaves escape.
But Kehinde disagrees.
"Black people are seen as inferior and black people are dangerous and that's the root of that tradition - whether it's in Holland or whether it's in Cornwall.
"It's got the same overtones which is why people are very upset when people black up."
Follow Newsbeat on Instagram, Facebook and Twitter.
Listen to Newsbeat live at 12:45 and 17:45 every weekday on BBC Radio 1 and 1Xtra - if you miss us you can listen back here.