2017 has been a 'record year' for sightings of the Loch Ness monster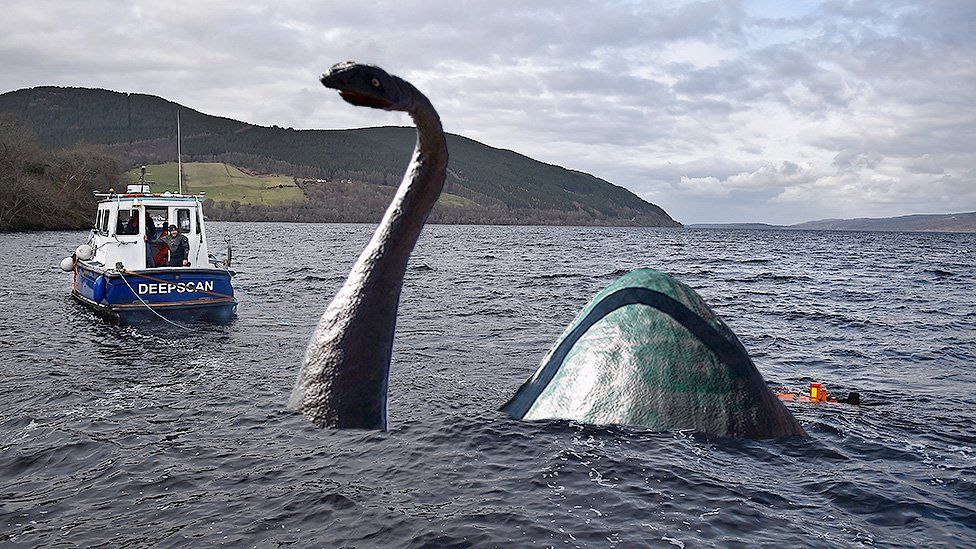 The Loch Ness monster has had a busy 2017, with more "official" sightings than any other year this century.
Admittedly, the number of official sightings logged is eight, but that's a lot for a mythical beast.
The eighth sighting is a photo of a strange "fin" in the water, taken by Dr Jo Knight from Lancaster University, after a recent visit to the loch.
She had taken her nine-year-old son to visit Loch Ness because of his interest in the monster.
"My son is interested in all sorts of 'possible' creatures like yetis and Tasmanian tigers," Jo tells Newsbeat.
"Scotland is slightly easier to get to than the places he wanted to go to look for yetis."
But she doesn't think they spotted a pre-historic animal.
"There aren't enough fish available for a large creature to be eating," she says.
"However, there is a possibility there might be some kind of eel or sturgeon which is causing the sightings, that's maybe grown bigger than they usually do.
"I think there's some kind of creature but possibly not a monster."
A woman on her honeymoon in October spotted a creature moving in the water, while a group of friends holidaying in August spotted "something huge" in the water which apparently "arched out of the water".
There were three sightings in June, one in May and one in April which were all deemed "official" sightings.
These sightings, and many more, are recorded by Gary Campbell who assesses and logs sightings of the Loch Ness monster.
He says that his team was "50/50" on the photo taken by Dr Knight, but they decided to give her snap "the benefit of the doubt".
"In recent years the most sightings in a year we have had is 17 - and that was in 1996.
"Before that the 1960s and 1930s were the times that had most sightings - sometimes more than 20 in a year."
Loch Ness expert Adrian Shine said the shape, measurements and location pointed to the object being the prop.