Amy Winehouse, music, arthritis and me
By Hannah Moore
Newsbeat reporter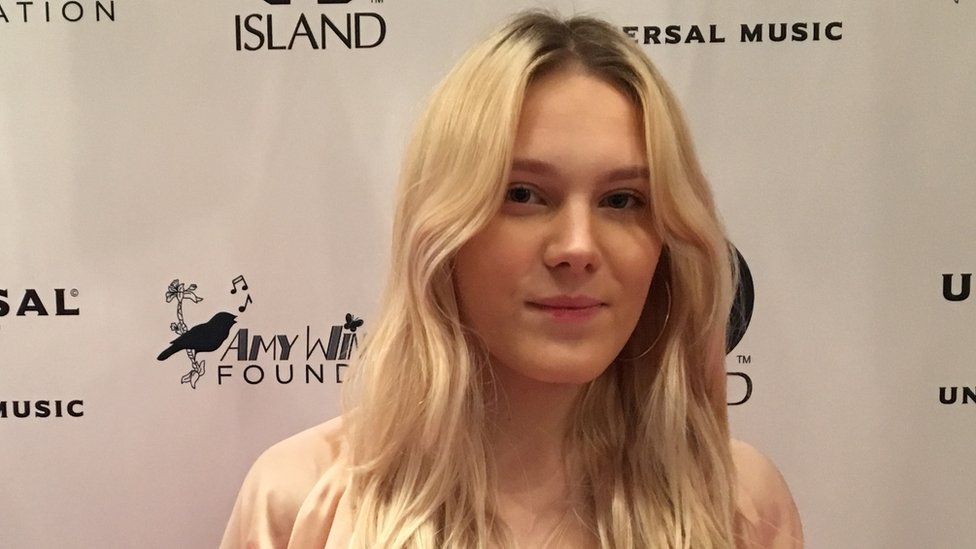 Jade Carter has spent a lot of her life in hospital.
Rheumatoid arthritis causes the 20-year-old such intense pain she sometimes can't move. That's where music helps.
"I kind of enter this different world when I'm singing. I feel like I can just let go of the reality of life," she tells Newsbeat.
Now Amy Winehouse's charity is helping her find her voice and launch a singing career.
"I was singing since I was six-years-old, when my mum would leave me in Great Ormond Street hospital," she says.
"I just wrote songs all the time because that's pretty much all I could do. I couldn't go to school a lot of the time."
Last night Jade performed for some of the biggest names in UK music, including Emeli Sande, Naughty Boy and Trevor Nelson, at the Amy Winehouse Foundation Gala, an event in memory of the late singer.
She's one of a small group of musicians chosen for Amy's Yard, a 12-week project which gives them time in the late singer's studio, working with a producer on their own track.
"It was a really lovely experience," says Jade, "Too much information, but I would sit on the toilet and be like 'Amy probably sat on this toilet," she laughs.
Jade, from London, was diagnosed with arthritis as a baby.
"I was on and off lots of trial drugs as well as arthritis drugs. Without those I think I would be in a wheelchair now.
"I can't bend my arm properly, sometimes I can't move my legs. I feel like I literally can't move my entire body."
She says she's spent years feeling ashamed of having the condition.
"People used to look at me and be like 'you're not disabled. You're just making it up'. I'd be scared to tell people I'm in pain."
Taking part in Amy's Yard has taught her a lot about the music industry, she says.
"We had a lot of wellbeing talks, about staying healthy and positive while you're trying to become someone. That's part of the reason I'm now so confident talking about my illness.
"I want to use my disability to show people they shouldn't hide who they are. I want to do music, and tell people about my condition. Don't let anything stop you."