This is Phoebe Schecter, Britain's first female NFL coach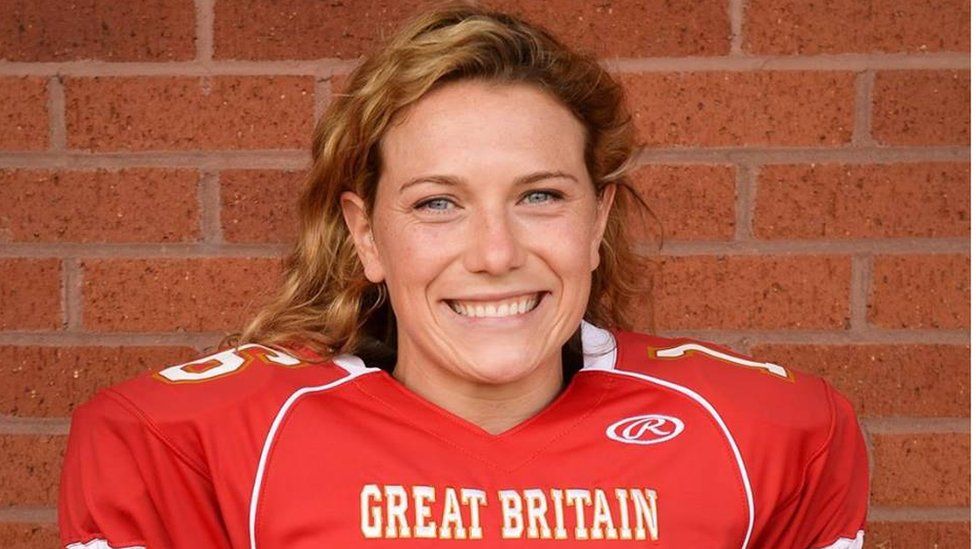 When you meet Phoebe Schecter, the thought "bone-crunching American Football linebacker" may not enter your mind.
She's 1.62m (5ft 4in) and weighs around 63kg (10 st) but appearances can be deceptive.
She captains Great Britain's women's American Football team, leading them to the final of the 2015 European Championships.
Now she's achieved something few women have - she's coached in the NFL.
"I ended up getting an offer from the Buffalo Bills. I'm back home now and I still don't believe what's happened," she says laughing.
An American by birth, Phoebe only started playing American Football five years ago, ironically, when she'd just moved to Britain.
"[It's] in the past two years, that's when being a coach has really started driving my decisions and opportunities."
The sport is one of the most physically demanding in the world.
"I know I won't be able to play forever but this sport has given me so much. I just want to be able to give back," she says.
"My first day, I remember so well, mainly because I was so nervous," she says.
"We had a staff meeting and coach Sean McDermott addressed everybody. I just remember sitting there and hanging on every word that he said because I fully believed in everything he was saying."
The NFL is one of the most macho sports on the planet and coaching is dominated by men.
However, the league has become more gender diverse in recent years. Buffalo Bills became the first team to hire a female coach in Kathryn Smith.
"Everyone was so respectful and so kind. By the end of it, when I was leaving, I felt like I'd made really good friends. It didn't feel as though I was working with players," Phoebe says.
"It was amazing to watch them compete and practise. And being around that mindset every day was a huge privilege but they're just normal people and they're trying to be the best they can be at their job. I never once felt out of place."
The life of an NFL coach is often long and tough.
Within the sport, stories of coaches sleeping at practice facilities aren't rare. "You start at 6am and you don't finish until 11.30pm. But even then, you never feel as though there's enough time."
Although she's now back in the UK, Phoebe wants to see more British coaches in the NFL.
"I just want to be able to take all the knowledge I've absorbed to help coach other coaches in the UK. I hope that we get more British people applying for this internship, whether it's female or male. There's no reason to not have the confidence to go over there and just learn."
"I would love to be an NFL assistant coach. Coming off the back of this experience, I just don't want to stop learning now."