Will Smith will play the Genie in Guy Ritchie's Aladdin remake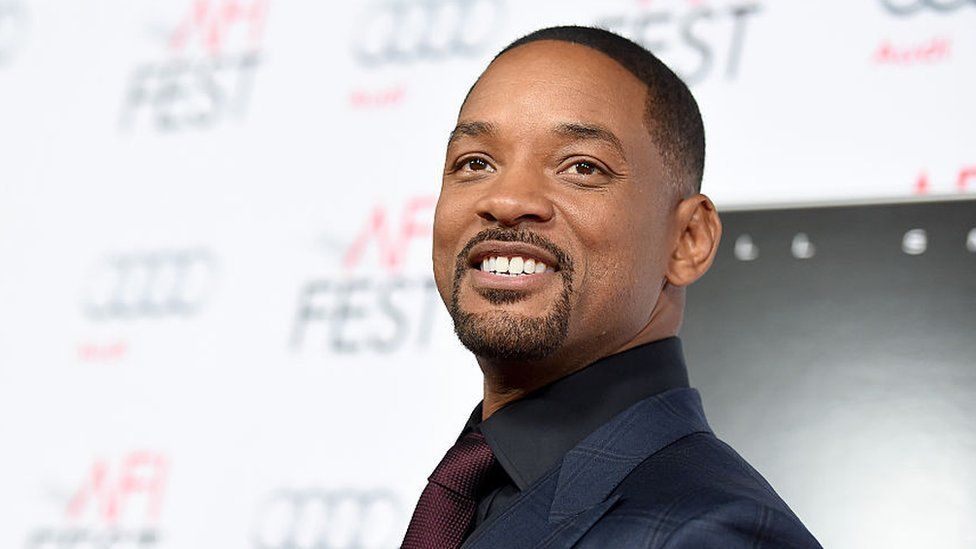 Disney has announced that Will Smith will play the Genie in the live action remake of Aladdin.
It's one of many new revelations the studio has made about some of its upcoming films.
Lots of secret footage was also released, from upcoming films including The Lion King, Avengers: Infinity War film and Star Wars: The Last Jedi.
The updates came from Disney's D23 Expo, a fan event in southern California.
After months of speculation, Disney confirmed Will Smith will take the role famously voiced by Robin Williams in the 1992 cartoon version of Aladdin.
The role of Aladdin will be played by Egyptian-Canadian actor Mena Massoud, who stars in the new Amazon series Jack Ryan.
English actress Naomi Scott, best known for playing Pink Ranger in the Power Rangers movie, will take the role of Jasmine.
While Star Wars fans didn't get a new trailer for episode eight, they were treated to a behind-the-scenes teaser.
"Some of the stuff that happens - people are going to be like, 'Oh my God,'" says Daisy Ridley, who plays Rey.
The clip also features the late Carrie Fisher, who plays Leia for the final time when the film comes out in December this year.
Warning: Third-party content may contain ads.
Disney also released unseen footage from their remake of The Lion King, out July 2019.
Unfortunately, it's not available to the public, but it's fair to say that those lucky enough to see it were excited.
The remake will star Donald Glover, AKA Childish Gambino, as Simba, as well as Seth Rogen, John Oliver and James Earl Jones.
It will be directed by The Jungle Book's Jon Favreau, who also helmed the first two Iron Man films.
The part of Nala hasn't been cast yet, but there's speculation that Disney is lining up Beyonce for the role.
A plethora of stars assembled to introduce footage from Avengers: Infinity War, out in May 2018.
Robert Downey Jr, Chris Hemsworth, Benedict Cumberbatch and Tom Holland were among those who stepped out on stage.
The footage they showed was only for the people in the room so we'll still have to wait a little longer for any sneak previews from the Marvel Cinematic Universe film.
But those who did see the footage weren't afraid of raising all our expectations.
In other announcements, a live-action remakes of Dumbo and Mulan were confirmed.
Tim Burton, who made Alice in Wonderland and Charlie and the Chocolate Factory, will direct Dumbo.
Meanwhile, Emily Blunt and director Rob Marshall turned up to tease new music and footage from Mary Poppins Returns, a sequel to the 1964 movie.
Pixar also announced a new film set in a "suburban fantasy world" about "two teenage elf brothers whose father died when they were too young to remember him."