Asos backlash for listing UK size 10 as 'large'
By Annabel Rackham
Newsbeat reporter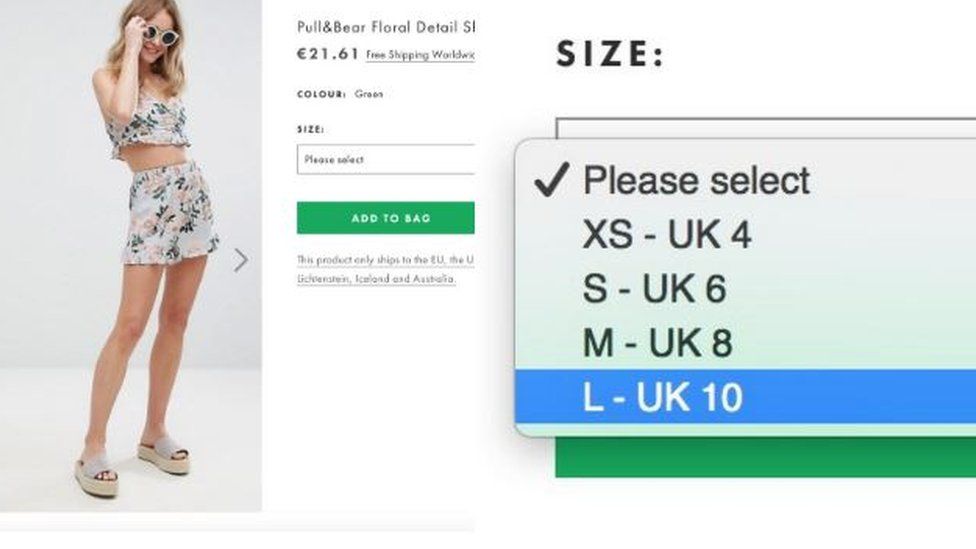 Asos and Pull and Bear have been criticised on social media for describing a pair of size 10 shorts as "large".
Twitter user Hollie posted a screenshot of the clothing.
Since then, many people have left comments, like "no wonder girls think they're fat when a large is a size 10".
Asos has since apologised for the listing, calling it a "technical glitch".
Since sharing the tweet, it's had more than 2,000 likes and has been shared nearly 600 times.
Many of the tweets say that sizing items in this way could be dangerous.
Some critics feared this could add to negative perceptions around body image.
"I was size 10 once in my life ever and it was when I was anorexic," says Maeve McQuillan.
"Calling it 'large' is not good," she added.
Pull and Bear is owned by Spanish company Inditex, which also runs Zara and Bershka.
Maeve also tweets to say "In Zara, a 12 is an XL... it's just not statistically accurate."
The size guide from the Pull and Bear website matches up sizes XS-XL with European sizes but not UK ones.
It lists a "large" here as a EU 40, which in UK sizing would be a 14, not a 10.
The online brand Glamorous uses sizes Small, Medium and Large and lists them as a 10, 12 and 14 respectively.
Other stores Topshop, Pretty Little Thing and Boohoo list their shorts by dress size.
Asos said in a statement: "We're really sorry for the confusion caused by the technical glitch, which meant certain Pull & Bear sizes weren't represented properly.
"This particular style has now been fixed and back online."