Anti-social or art? Commuter vs beatboxer on London Underground
By Amelia Butterly
Newsbeat reporter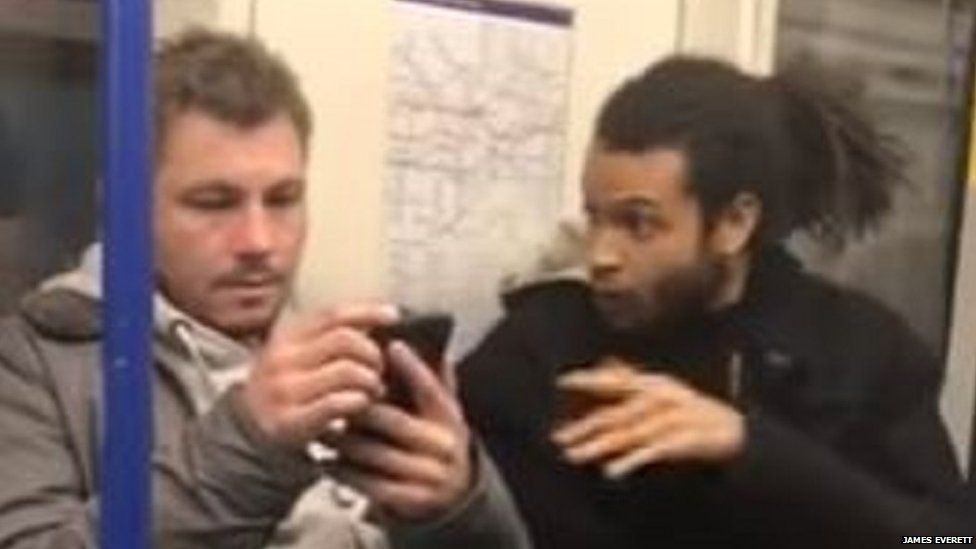 When Marv Radio started beatboxing on the London Underground, he was confronted by a fellow passenger and told to stop.
Instead, he argued back with his voice.
"My thought was: I don't want to back down to this but I don't want to rise up to it either, so I ended up turning that moment into an opportunity to beatbox," he tells Newsbeat.
Marv, 29, thought the encounter would be noticed only by the people in the carriage - but then it went viral.
It was captured in this video by James Everett, another passenger.
Marv says before the footage begins, the passenger had first told him, "This is not your home."
Third party content may contain ads.
"I went on my phone, two millions views, this is interesting," he says.
For the most part, he says the experience has been a "positive thing", with people messaging him to praise his vocal skills and old friends getting back in touch.
But there were also some negative reactions.
"There were a lot people saying I'd hit this guy or I'd slap this guy," Marv says.
James, a London-based film director, knew he was watching something a bit special when he saw Marv beatboxing and quickly got out his camera to film it.
"I thought it was extraordinary," he tells Newsbeat.
"It started with watching Marv in his own world, with his eyes closed, beatboxing to himself, producing this very loud sound.
"It was as though he had some kind of internal speaker that was switched on and it was amplified through the carriage.
"It was funny if nothing else.
"The girl sitting next to me and some other people stood around us were also smiling.
"What also made it funny and don't think I'm a bad person because of this, but the guy sitting next to Marv was getting a bit annoyed, which he's within his rights to do.
"He's in the carriage travelling home and he doesn't necessarily want to sit next to a beatboxer."
Along with being a professional musician, Marv also teaches meditation and works with young people.
"I'm such a happy person and to hear people who saw a minute video, say something negative about me, isn't going to affect my self-image," he says.
He also wants people to know it's "alright to get to know a stranger" and interact with people on public transport.
"In general, I think it would be nice for people to interact more on the Tube rather than just getting in their own bubble," he says.
"It's nice to fill London with art as opposed to boring advertisements."
James says Marv doesn't deserve the abuse he's had online.
"What I have personally found to be disappointing, is that people have their right to disagree with what took place, but when they get aggressive, threatening acts of violence, it very much undermines what is supposed to be a moral high ground," he says.
"If they're trying to defend people's right to personal space, I don't think that is communicated in a very effective way if they are advocating violence."
But there are some positives for James as well, who says he's made a new friend.
"As soon as it was over, everyone was really smiling and I got talking to the girl next to me," he says.
"She made me take her email address and I sent her the video and we've been in touch since.
"We've been getting to know each other as a result of it."