Richard Hammond is criticised for gay ice cream joke on Amazon show, The Grand Tour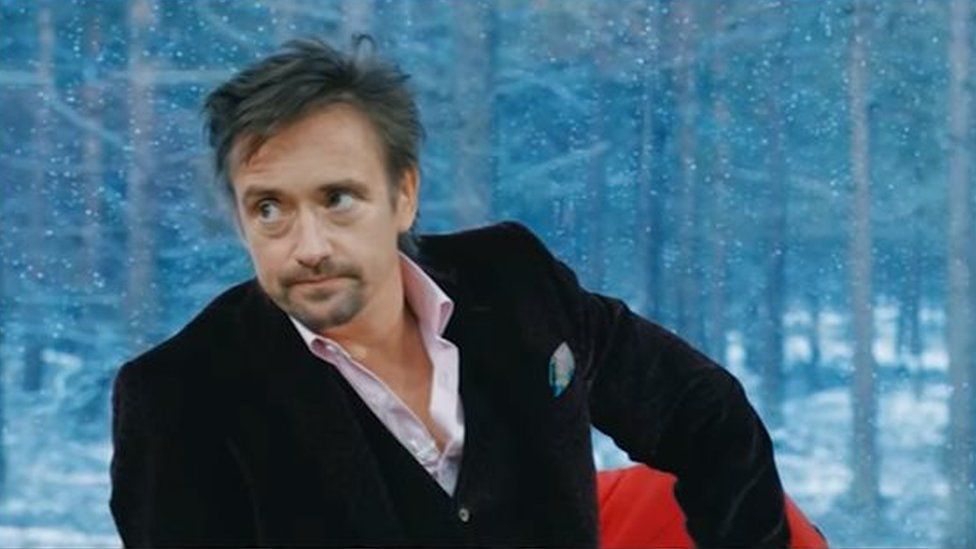 TV presenter Richard Hammond has been criticised after making a joke about eating ice cream being gay.
He was responding to a comment made by Jeremy Clarkson on The Grand Tour.
Talking to an audience, co-host Clarkson points at a photo of a Volvo's interior and says: "The only problem is that in one of those, you couldn't enjoy a chocolate Magnum ice cream."
Richard Hammond replied: "It's all right, I don't eat ice cream. It's something to do with being straight."
After the audience on the Amazon Prime show applauded, Jeremy Clarkson asks: "Why are you applauding him? What do you mean? You're saying all children are homosexual?"
Richard Hammond replies: "What? What? Ice cream is a bit - you know... There's nothing wrong with it, but a grown man eating an ice cream - it's that way, rather than that way.
"I'm right. I can't believe you can't see that. It's easy. It's in front of you."
But Twitter users aren't happy about the comments.
LGBT campaigner, Peter Tatchell, has also criticised Richard Hammond.
Speaking on BBC 5 Live Daily, he's told Adrian Chiles that he thinks the comments "pander to prejudice".
"It's a perverse world when everyday pleasures like ice cream becomes the butt of homophobic innuendo," he said.
"That Richard Hammond thinks he needs to boast about his heterosexuality is weird and it will get people wondering, 'Why? Why is he saying that?'
"His pandering to prejudice is bad enough, of course. But the audience applause that he got makes it even worse, and I think it shows that we still have some way to go to end bigoted banter."
There's no word yet from Richard Hammond or the producers of The Grand Tour.
The comments were made on the sixth episode of the Amazon Prime show, which was called Happy Finnish Christmas.
It was released on 23 December.
A spokesman for LGBT equality charity Stonewall said: "Hammond's choice of words were not just ridiculous, but chosen purposefully to mock and belittle.
"This is the sort of childish language heard in playgrounds across Britain.
"Stonewall trains teachers to tackle homophobic, biphobic and transphobic slurs like these, so to hear this sort of language on television is extremely disappointing and sends the wrong message to young people."
In the same episode Richard Hammond also takes a dig at the Top Gear scene filmed at the Cenotaph in central London earlier this year.
Driving a Mustang on a tour of the city, he says: "That is the Cenotaph, where we remember those who died fighting for us. Slow down a bit here, show some respect."
The BBC show, formerly fronted by The Grand Tour's Richard Hammond, Jeremy Clarkson and James May, was criticised after new host Matt LeBlanc and a professional driver performed "doughnuts" near the war memorial.
Former co-host Chris Evans apologised for the stunt, and said he and the crew were "mortified".
Find us on Instagram at BBCNewsbeat and follow us on Snapchat, search for bbc_newsbeat