This is what it's like spending Christmas in prison
By Imran Rahman-Jones
Newsbeat reporter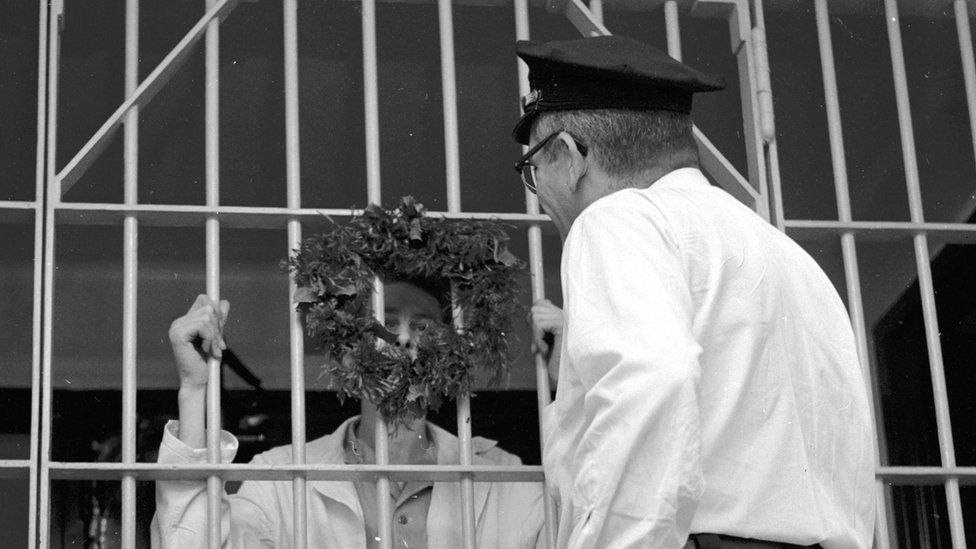 Around 86,000 people in the UK will be spending Christmas Day in a very different way to the rest of the country - they will be in prison.
There has been a wave of prison riots around the country as Christmas approaches.
In the last few weeks, disturbances have been reported in prisons in Lewes, Bedford, Birmingham and Swaleside in Kent.
But what is it like for someone spending Christmas behind bars?
One ex-prisoner, who only wants to be identified as Sam, describes the day as "bittersweet".
She spent one Christmas in prison and was jailed only a few weeks before Christmas Day.
"In the run-up to Christmas it was pretty bleak," she says.
"We have tutors who come in to teach classes.
"They also put on a Christmas film - we watched Elf instead of working.
"But there were disciplinaries against some of them [the tutors] because they handed out chocolate as a treat."
For inmates who are recovering drug addicts, chocolate is extremely valuable because methadone users crave sugar.
So sugary products can be traded on the black market for high prices.
But surprisingly, Sam says that not everyone was down about spending the festive season in prison.
"Some women said they were pleased to be there - they were quite joyful."
This is because for them, the alternative was worse: homelessness, going hungry or returning to abusive partners.
But Sam's concern was for her two children.
She spoke to them on the phone on Christmas Day, but says: "I wish I hadn't.
"It brought it home to me - you realise that life carries on without you."
How does the day pan out?
Christmas cheer was pretty hard to come by, says Sam.
The only decorations were some paper chains which a few inmates had made in the art department.
"On Christmas Eve, some of the prisoners from another wing came and sung carols," says Sam.
"It was quite poignant, really. I felt more sadness than anything else.
"My thoughts went out to the women there who were trying to bring normality to the situation."
Sam remember Christmas morning being "bitterly cold" in the cell.
"I'd kept some milk on the window sill. I remember it being completely frozen when I woke up," she says.
Breakfast was the same as usual - porridge and a boiled egg.
There was a Catholic service afterwards, which Sam went to.
"A lot of people went just for something to do," she says.
"There were some carols and the message was mostly about redemption and second chances.
"It was a nice service," she remembers.
"Lunch was processed turkey, a couple of potatoes and some sprouts, and some fruit cake.
"The atmosphere was mostly subdued, but some of the younger people were more boisterous - it wasn't like everyone was sitting round a table like a family Christmas."
After lunch, there was a two-hour period where the inmates could play cards and board games, which they weren't normally allowed to do.
But Sam says a lot of the pieces were missing, so she ended up watching some TV.
"I was almost tortured by the adverts: seeing all those families enjoying themselves and the Christmas cheers really upset me - it was painful."
The inmates were locked up again at 5pm, after being given another piece of cake, which Sam describes as "really unusual".
After Christmas Day, "everything springs back to normal pretty quickly," says Sam.
The only difference is that there are no visits for a few days afterwards because there are far fewer prison staff working at that time.
Sam describes her first Christmas after she was released as feeling "wonderful".
"It sounds melodramatic, but I don't think Christmas will ever be the same again.
"Now I've been through that, it makes me never want to go through it again."
Find us on Instagram at BBCNewsbeat and follow us on Snapchat, search for bbc_newsbeat