This is what it costs a woman in Northern Ireland to get an abortion
By Amelia Butterly
Newsbeat reporter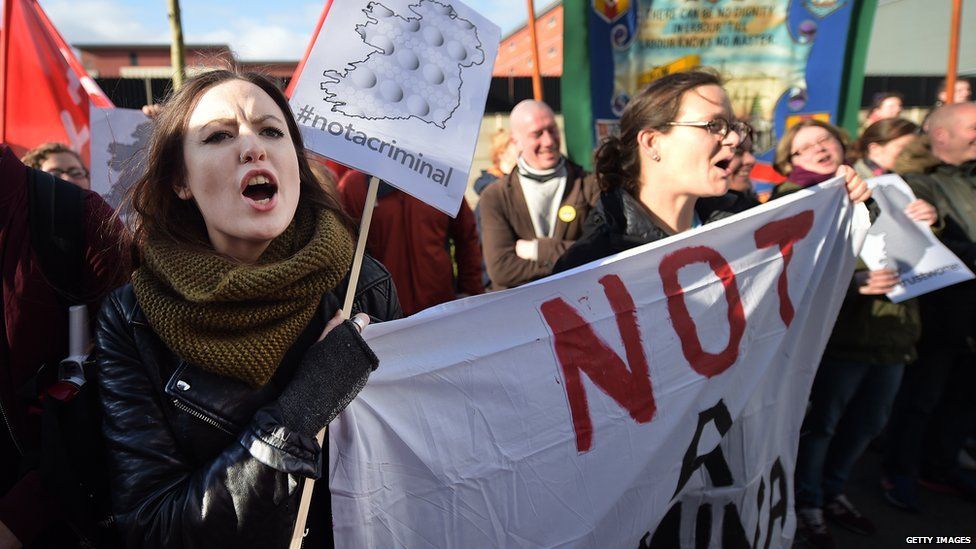 The young woman was 15 when she and her mother went to Manchester to have an abortion, at a reported cost of £900.
Abortion is illegal in Northern Ireland without exceptional circumstances.
Last year 833 women travelled from Northern Ireland to England and Wales for abortion care, according to the British Pregnancy Advisory Service.
It's hard to say exactly how much these women will have spent on getting their abortion.
Costs can include flights, consultations as well as the procedure itself.
But one figure quoted by a leading charity is roughly between £350 and £2,000 for a surgical abortion.
"These are reduced prices offered by English clinics to clients travelling from Ireland, Northern Ireland and the Isle of Man," says Mara Clarke from the Abortion Support Network.
"But there are other expenses. Women must have a consultation, which costs between £60 and £80."
The discount given by the main providers in England and Wales means these women pay less than residents who opt for private treatment over the NHS.
The reduced price for treatment is thought to help compensate for the fact that women may be paying a lot of money in travel costs.
But the cost still varies dramatically for the abortion itself, depending on which method is chosen and how far along the pregnancy is.
For example, one clinic in Manchester provides an early medical abortion (where the woman takes pills to end the pregnancy) for £280.
This option is available up to nine weeks.
This rises to £560 for pregnancies over 14 weeks.
However, as Mara Clarke points out there are many other costs for the women to think about and "it all adds up".
They may need to pay for childcare while they are away from home.
Certain air travel companies require photo identification to travel, so a woman may have to find the money to pay for a passport, for example.
Plus there are the costs of the flight itself to consider.
Depending on an individual's medical circumstances, they may need to stay overnight near the clinic before flying home.
And if a woman has to save up the money for her abortion, she may find she has waited so long to gather the funds, the cost of her abortion has risen in the meantime.
"Those with funds can travel to England for a safe, legal abortion," says Mara Clarke.
"Those without money can continue a pregnancy they don't want or, if they are under 10 weeks pregnant, risk criminal prosecution by ordering safe but illegal early medical abortion pills online.
"We've had clients ration food, sell Christmas presents, risk eviction by not paying rent - all while hiding their pregnancies and the symptoms of their pregnancies from those around them.
"And as they chase around to raise the money, they know that the procedure will almost double in price at 14 weeks and triple at 19 weeks."
The law on abortion is controversial in Northern Ireland.
When a woman from Belfast who bought drugs online to terminate her pregnancy was given a suspended sentence earlier this year, Amnesty International said it was "utterly appalling" because a "woman who needs an abortion is not a criminal".
But Bernadette Smyth, director of anti-abortion group Precious Life, said she was shocked that the penalty for a "serious crime" was so "lenient".
Find us on Instagram at BBCNewsbeat and follow us on Snapchat, search for bbc_newsbeat