An autistic boy who can't be touched has connected with a service dog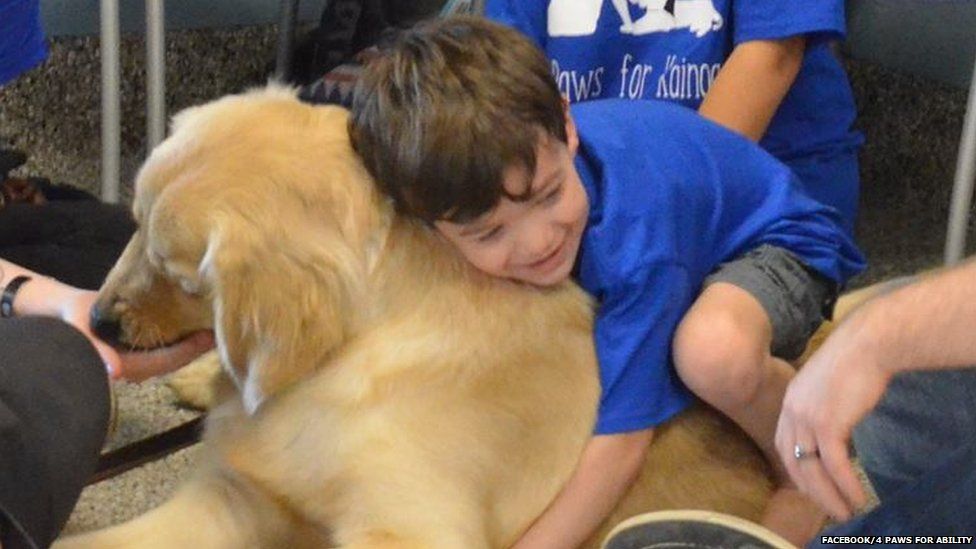 An autistic boy who can't be touched or hugged by anyone has connected for the first time - with his new service dog.
Five-year-old Kainoa Niehaus travelled to the 4 Paws For Ability centre in Ohio from Japan after two years of waiting for an animal to become available.
His mum Shanna shared a photo of her son resting his head on Tornado.
"See this moment? I've never experienced a moment like this," she wrote underneath the post.
"This picture captures the face of a mother who saw her child, who she can't hug, wash, dress, snuggle and touch freely lay on his new service dog of his own free will, with a purposeful, unspoken attachment.
"This is the face of a mom who has seen her son experience countless failed social interactions on the playground in an attempt to have a friend. Any friend. Any kind of connection.
"She has sat with her son while he has cried at night for months because he has no consistent connections outside of the family no matter how hard he tries and no matter what he works hard on in his Autism therapies.
"It doesn't transfer to the natural occurring world for him. And now she is sitting behind her son silently watching this moment, with the air sucked from her lungs, and no words to say."
4 Paws For Ability is a non-profit global organisation which provides service dogs to disabled children and veterans who've lost the use of limbs or their hearing.
The family had to travel from Japan, where they live, to America to get Tornado.
"It's worth every fight for services for my son, every diagnosis, every new provider, every dollar spent, every paper filled out, every school meeting, every shed tear, every step forward, every step back, and every wonder of the unknown future," wrote Shanna.
"Somehow because of this - because of Tornado - I know everything will be okay.
"As a mother, I have seen countless challenging and painful moments my son has encountered and cried countless more.
"Yesterday however, I cried for a different reason. It is a feeling that is indescribable."
Autism is a developmental disorder that can cause problems with social interaction, language skills and physical behaviour.
People with autism may also be more sensitive to everyday sensory information.
To people with the condition the world can appear chaotic with no clear boundaries, order or meaning.
The disorder varies from mild to so severe that a person may be almost unable to communicate and need round-the-clock care.
Find us on Instagram at BBCNewsbeat and follow us on Snapchat, search for bbc_newsbeat