Little Mix 'expected' Zayn Malik rumours about new single Shout Out To My Ex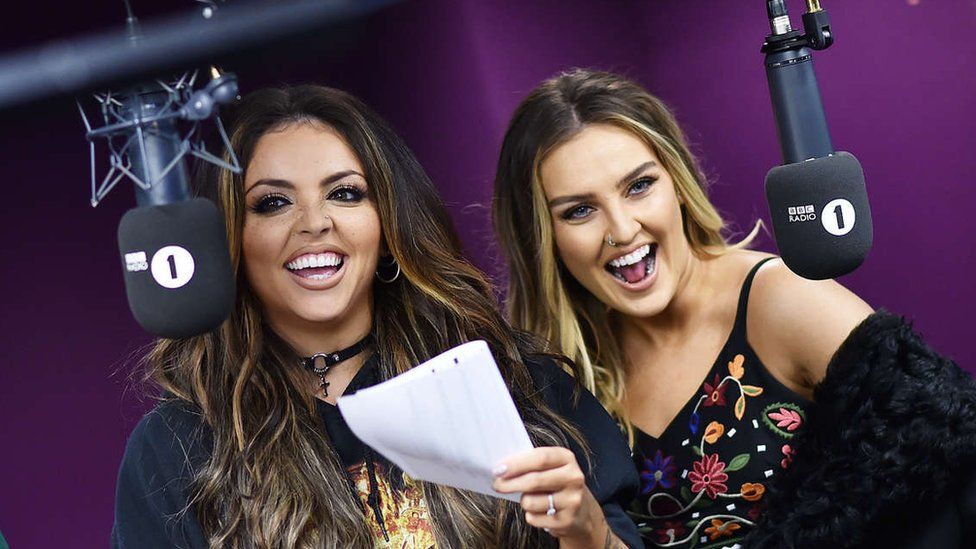 Perrie Edwards from Little Mix says she expected fans to speculate about whether their new single was about her break-up with Zayn Malik.
The girl group premiered Shout Out To My Ex on the Radio 1 Breakfast Show after performing it on The X Factor.
Perrie told host Nick Grimshaw: "I mean, we did expect it, didn't we? The song speaks for itself.
"Who doesn't relate to this song? It relates to everyone. Jes always says it's like a happy, heartbreak song."
Perrie and Zayn got together in 2012 shortly after Little Mix won The X Factor and announced their engagement in August 2013.
They split up last year after Zayn left One Direction.
It followed allegations that he'd cheated on Perrie.
Photos were published showing him holding hands with another woman in Thailand on One Direction's On the Road Again world tour.
Perrie said that they hadn't received any negative feedback about Shout Out To My Ex and says it's meant to empower people after they split up with their partner.
"It makes you feel amazing and that's what it's all about really," she said.
Bandmate Jade added: "Everyone's got an ex and everyone's got a bad one."
Jesy said later in the interview: "I would just like to say she is bloody beautiful and she is wonder woman and she deserves the world."
Music commentators and fans have been less guarded on social media about the real meaning of the song.
The lyrics say: "I hope she gettin' better sex/Hope she ain't fakin' it like I did, babe.
"Took four long years to call it quits/Forget that boy I'm over it.
"Guess I should say thank you, for the hate yous and the tattoos/Oh baby I'm cool by the way, ain't sure I loved you anyway."
Warning: Third party content might contain ads
But the track hasn't gone down well with everyone.
US group G.R.L. claim Shout Out To My Ex sounds a lot like their 2014 single Ugly Heart.
They posted this tweet on their timeline on Sunday.
Little Mix were also criticised at the weekend by Spice Girl, Mel C.
Sporty says the group are now too "provocative" and she's stopped her 7-year-old daughter looking at social media over concerns about over-sexualisation in the music industry.
She told the Sunday People: "I love Little Mix. I loved them from The X Factor. I just thought they were so different.
"But they are getting more provocative. To me, they were kind of the closest thing to the Spice Girls we've seen.
"They are all gorgeous and great singers. But they weren't sexy and it's got more and more that way. I love them - but I just say, 'Stay you.'"
Little Mix's new album Glory Days is out on 18 November.
Find us on Instagram at BBCNewsbeat and follow us on Snapchat, search for bbc_newsbeat