The biggest clubs we've loved and lost - from Fabric and Gatecrasher to the Hacienda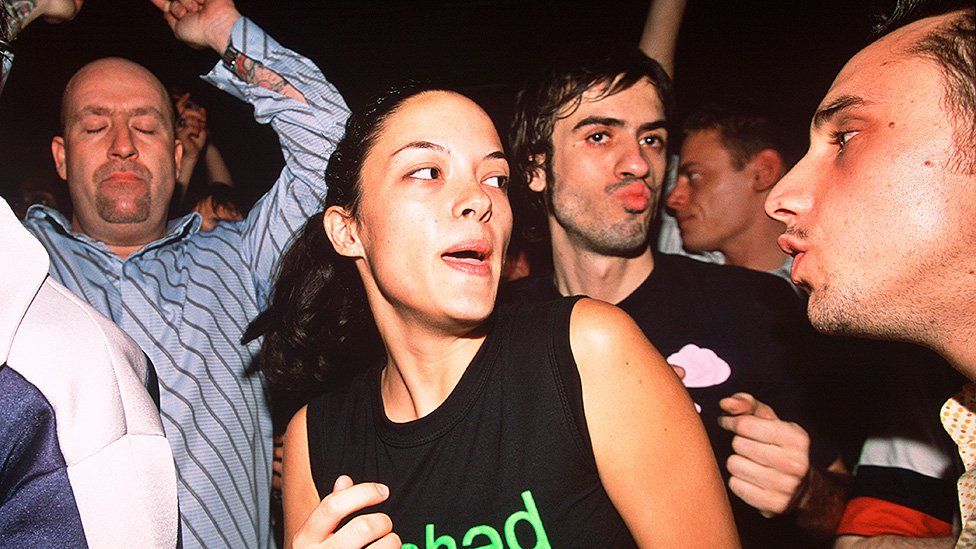 The club had its licence revoked by Islington Council after two 18-year-olds died after taking drugs in the club.
Around 250 staff will now lose their jobs as Fabric becomes the latest major club to disappear from the UK scene.
A number of iconic venues have closed in recent years.
Some have disappeared because of financial problems or property development, but many, like Fabric, have been lost to drug-related crime.
"Closing Fabric isn't the answer to the drug-related problems clubs like ours are working to prevent, and sets a troubling precedent for the future of London's night time economy," says an official statement from Fabric.
The Farringdon club could now follow some famous names which have disappeared from the map.
Fabric, London: First dance 1999 - last dance 2016
Fabric was closed permanently on Tuesday night following the deaths of two teenagers.
The Metropolitan Police believe keeping Fabric open would cause further drug-related deaths and Islington Council described a "culture of drugs" at the venue.
Celebrities, DJs and clubbers have spoken about their shock at Fabric's permanent closure, while support has also come from official channels.
"This decline must stop if London is to retain its status as a 24-hour city with a world-class nightlife," says London mayor Sadiq Khan.
The Tuxedo Royale, River Tyne: First dance 1983 - last dance 2007
The River Tyne's floating nightspot, The Tuxedo Princess, was a refurbished car ferry.
In its heyday, it attracted celebrities including Kevin Costner, Mick Hucknall, Jason Donovan and Rick Astley. It couldn't have been any more late '80s.
Cheryl Cole is believed to have once worked on the Tuxedo Princess when it was moved to Newcastle and the parents of The 1975's Matt Healy got engaged on the ship.
The ship played a huge role in local nightlife, but many residents were thrilled when the "eyesore" was taken to Greece and sold as scrap.
The Astoria, London: First dance 1985 - last dance 2009
As a gig venue, London's Astoria played host to the likes of David Bowie, Radiohead, Arctic Monkeys and Muse.
But to many, it was perhaps best known as the home of G.A.Y., one of the UK's most famous (and fabulous) gay nights.
G.A.Y. hosted the likes of Kylie Minogue, Scissor Sisters and Amy Winehouse during its time on Tottenham Court Road.
The Astoria was closed, and later demolished, to make way for London's Crossrail expansion.
Cream Nation, Liverpool: First dance 1992 - last dance 2002
Cream is one of the biggest names in clubbing, but the original Liverpool venue, Cream Nation, is no more, having been demolished in early 2016.
After leaving the venue in 2002, Cream returned several times a year for one-off specials and the owners are now planning to build an underground venue where Cream Nation once stood.
Some of the most iconic names in dance music DJ'd at Cream during its early years including Paul Oakenfold, Paul Van Dyk, Roger Sanchez and The Chemical Brothers.
Cream now hosts a club night at Ibiza club Amnesia during peak season and festival Creamfields is one of the UK's biggest dance events.
Hacienda, Manchester: First dance 1982 - last dance 1997
Manchester's iconic Hacienda played host to the likes of Madonna, The Smiths, Oasis and The Stone Roses during its glory days.
In 1989 the UK's first ecstasy-related death happened at the venue and the club's legacy was also marred by shootings and violence in and around it.
The club is believed to have lost up to £18m in its later years, as the club struggled to earn enough money from bar takings, despite its ongoing popularity.
It is widely believed that people at the club were spending their money on drugs, not alcohol.
The Hacienda closed as a club in 1997 and was demolished in 2002 to make way for a block of flats, which are controversially named The Hacienda Apartments.
Prior to its demolition, Crosby Homes held a charity auction to sell items from the club, with former party animals and DJs attending to buy everything from the DJ booth to radiators.
Matter/Proud2, London: First dance 2008 - last dance 2013
There were two attempts to run a successful club in a space at London's O2 Arena but neither found much success.
Two founders of Fabric were behind the first attempt, Matter, in 2008 but it was forced to close in 2010.
This was due to a delay in improving the Jubilee Line, which connects the arena with central London.
It reopened as Proud2 but was closed down for 28 days in 2012 after two stabbings in the venue, a decision its owner called "absurd".
It later reopened, but the lengthy closure had affected trade and Proud2 later went into administration.
Gatecrasher: First dance 1996 - last dance 2015
Gatecrasher One was a hugely popular Sheffield club until it was destroyed by fire in 2007 and found a new home in Birmingham.
The Birmingham venue was closed in November 2015 after a string of violent incidents at the 2,400 capacity venue.
Following the closure in Birmingham, Gatecrasher secured a temporary lease back in Sheffield with plans to reopen before the end of 2016.
Space, Ibiza: First dance 1986 - last dance 2016
Space in Ibiza has been one of the biggest clubs on the island since it opened in 1986.
Situated close to the airport, its outdoor terrace was known for the roar of jet engines as planes flew clubbers on and off the island.
The club is closing - at least in its current, iconic location - on 2 October 2016 but it may re-open elsewhere in Ibiza.
"It won't happen for at least two years and will it be the same? We don't know," DJ Carl Cox told Ticketmaster.
"I don't know whether I will be involved because there are so many variables."
Find us on Instagram at BBCNewsbeat and follow us on Snapchat, search for bbc_newsbeat