US pastor, who believes floods are God's punishment, flees flooded home
By Michael Baggs
Newsbeat reporter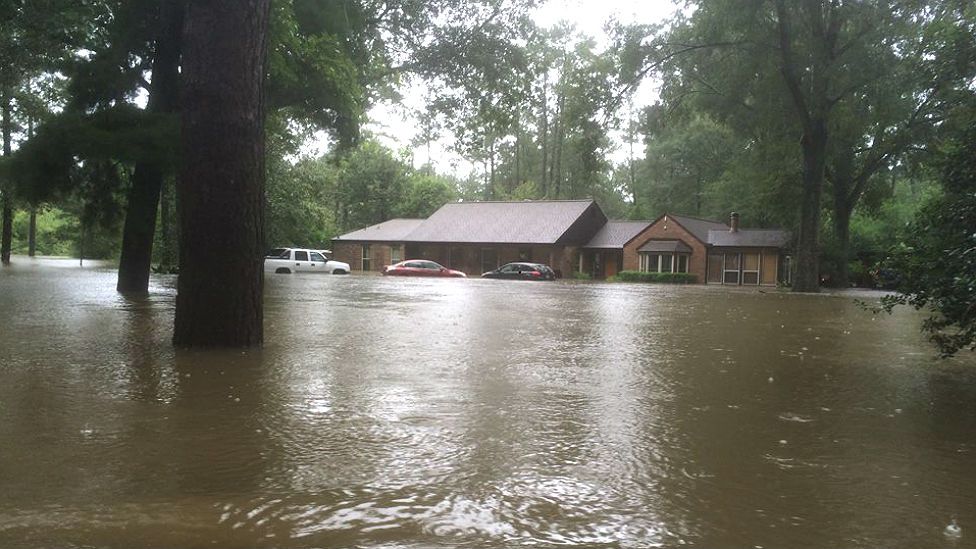 US pastor Tony Perkins, who believes natural disasters are sent by God to punish gay people, has fled his flooded home in Louisiana.
In 2015 he caused controversy when he agreed with a statement that natural disasters are sent by God as punishment for abortion and gay marriage.
Mr Perkins has revealed that he was forced to escape his property in a canoe with his family.
He shared photos on Facebook and discussed his experience in a podcast.
"This is a flood of near-biblical proportions," he said in an interview with the Family Research Council.
"We had to escape from our home Saturday by canoe. We had about 10 feet of water at the end of our driveway. Our house flooded, a few of our cars flooded."
In 2015, he interviewed extreme Messianic Jewish pastor Jonathan Cahn who told him that Hurricane Joaquin, which devastated Hawaii last year, was a "sign of God's wrath".
During the interview, Mr Cahn stated that the storm was a sign God was angry about the legalisation of gay marriage and abortion and the relationship between the United Nations and Israel.
He's quoted as agreeing, adding "God is trying to send us a message".
The Red Cross has called the Louisiana floods the worst natural disasters in the US since Hurricane Sandy in 2012.
Shocking footage from Baton Rouge in Louisiana shows dramatic rescues in the ravaged state.
Thirteen people have died in catastrophic floods across the US state and tens of thousands of people were stranded in their homes and vehicles.
"The fact that so many people in Louisiana have been forced out of their own homes this week is heartbreaking," she said in a statement about her contribution.
"I encourage those who can to help out and send your love and prayers their way during this devastating time."
Find us on Instagram at BBCNewsbeat and follow us on Snapchat, search for bbc_newsbeat