'Free the Nipple' campaigner arrested at Comic Con shares sexist abuse online
By Michael Baggs
Newsbeat reporter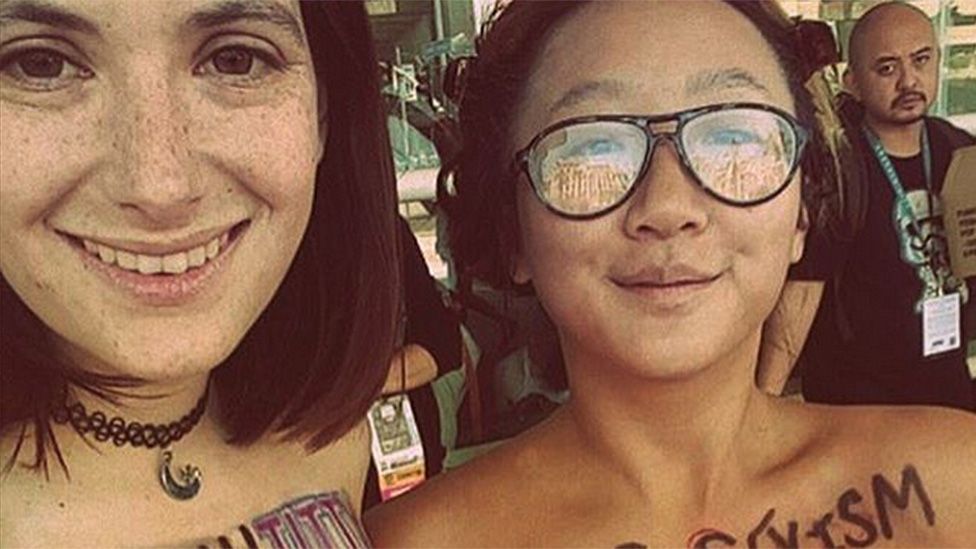 A "Free the Nipple" campaigner has revealed the abuse she experienced at this year's Comic Con in San Diego after she was arrested over her outfit.
Anni Ma, 25, was neither naked nor topless but it's fair to say she wasn't wearing much clothing.
She attended the event with a friend, both wearing shorts and tape across their breasts.
The pair had written messages about sexism across their bodies.
Some of the men at the event were bare-chested but it was Anni and her friend who drew negative attention.
Anni shared photos on Instagram to highlight the different reactions to male and female nudity.
"I've been doing top-free civil disobedience for a year and a half now," Anni tells Newsbeat.
"Although I feel like I am prepared for anything I am always so shocked to learn how compassionate people are towards me and how hateful some people can be as well."
But while Anni's visit to Comic Con ended in several aggressive confrontations, she says she attended the event with nothing but peaceful protest in mind.
"My activism is about being kind, compassionate, and understanding of those who decide to make different choices than the social norm," she says.
"At the end of the day, I just want to inspire a interesting way to start a conversation about gender equality."
A lot of Comic Con attendees had no problem with Anni's outfit.
But some did. Anni shared video clips of some of the more aggressive confrontations.
In one post she gets into a confrontation with a man who she says touched her.
"Oh my lordy," he says, pointing at her outfit. "I did not touch you."
"I'm not asking for it just because I'm dressed differently than you are," says Anni.
"But you still are," adds another man. "You've written stuff all over your body."
"That's the kind of 'She asked for it' mentality that I want to address and break down," Anni says of this confrontation.
Anni also filmed the moment where she was arrested and can be heard screaming for help as an officer handcuffs her.
"Put your hands behind your back, you're going to go to jail now," the officer is heard saying.
Other Comic Con attendees can be heard calling out in her defence during the arrest.
"I get arrested for having a bare back and appear to be top free while people who can verbally harassed me, who gets in my personal space and face gets to have a second chance before anything is done about it," Anni explains.
The activist also quizzed South Park creators at Comic Con about their thoughts on #FreeTheNipple and whether the show would consider an episode about the movement.
"Yes. We weren't and now we are. The entire next season will be #FreeTheNipple season," says Trey Parker.
"It's ridiculous, there are real tragedies happening in the world and that's something people are obsessing over," added Chris Hardwick.
Find us on Instagram at BBCNewsbeat and follow us on Snapchat, search for bbc_newsbeat