Ed Sheeran sued over claims he's ripped off a Marvin Gaye song
By Chi Chi Izundu
Newsbeat entertainment reporter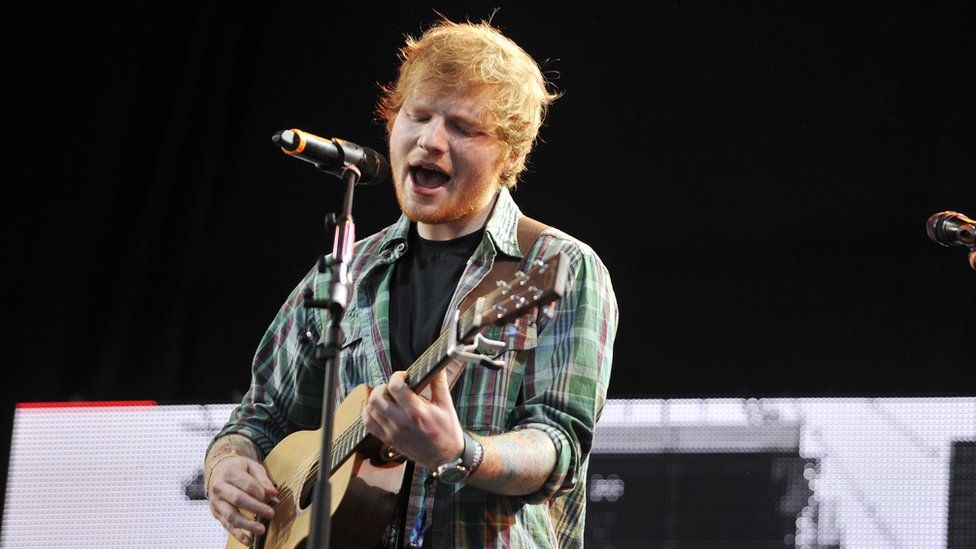 Ed Sheeran's being sued in America over claims that Thinking Out Loud rips off a Marvin Gaye song.
The family of the man who co-wrote Let's Get It On says it copies key parts of the track.
Ed Townsend's relatives are asking for a jury to decide if they're owed damages.
"The Defendants copied the heart of Let's and repeated it continuously throughout Thinking," the court papers claim.
"The melodic, harmonic, and rhythmic compositions of Thinking are substantially and/or strikingly similar to the drum composition of Let's," it says.
There's been no response yet from Ed Sheeran or his record label.
The lawyer representing the Marvin Gaye estate told Newsbeat they were "aware" of comparisons with the 1973 hit.
Ed's already being sued for $20m (£13.8m) over his single Photograph, which two US musicians say copies their song Amazing.
The Gayes' lawyer, Richard Busch, is also representing Halo Songs, who've launched that case.
Thinking Out Loud won best pop solo performance at this year's Grammy awards and was a multi-platinum hit globally.
It was also Ed's highest charting hit in North America, reached number one on the Official Singles Chart in the UK and became the first song to spend a full year in the UK's top 40.
It was also the first ever song to hit 500 million streams on Spotify.
The song is currently credited to Ed Sheeran and Amy Wadge. It was released by Atlantic Records and published by Sony/ATV.
If Ed's team, label and publishing companies don't come to an amicable agreement with Ed Townsend's estate, the case could go to court.
People have noticed the similarities of the two tracks in the past.
Newsbeat understands that discussions about copyright ownership of Thinking Out Loud have been going on behind closed doors.
Sheeran is currently taking a break from music but is expected to debut new songs later in 2016.
If the Thinking Out Loud dispute doesn't make it to court, there could be a case for Marvin Gaye's name to be credited to the track, like Sam Smith did with Tom Petty for Stay With Me and Mark Ronson did with the Gap Band on Uptown Funk.
Warning: Third party content may contain adverts
Songwriters Martin Harrington and Thomas Leonard say Ed's Photograph song has "verbatim, note-for-note" similarities to their 2009 track Amazing.
Amazing was released by former X Factor winner Matt Cardle in 2010 and reached number 84 in the Official Singles Chart.
The $20m price tag doesn't include royalties. HaloSongs is seeking those on top.
The claim is thought to be as a result of one of the publishing companies connected to the track being sold for a large sum of money "in part because it came with the rights to the Sheeran song", according to Forbes magazine.
Photograph was also recently licensed to be part of the soundtrack for British rom-com, Me Before You, starring Sam Claflin and Emilia Clarke.
Ed Sheeran's been named 2015's most-played artist in the UK by Phonographic Performance Ltd following the release of his album X.
He's written songs for Taylor Swift, Jessie Ware, One Direction, Olly Murs and Justin Bieber.
Led Zeppelin recently won a copyright case against US band Spirit after being accused of stealing the opening chords for Stairway to Heaven.
Madonna also won a case where a producer had been accused of copying the horn arrangement used in her '90s track Vogue.
We've contacted Ed's label and are waiting for a response.
Find us on Instagram at BBCNewsbeat and follow us on Snapchat, search for bbc_newsbeat