This graduate made his CV look like GQ magazine - and it worked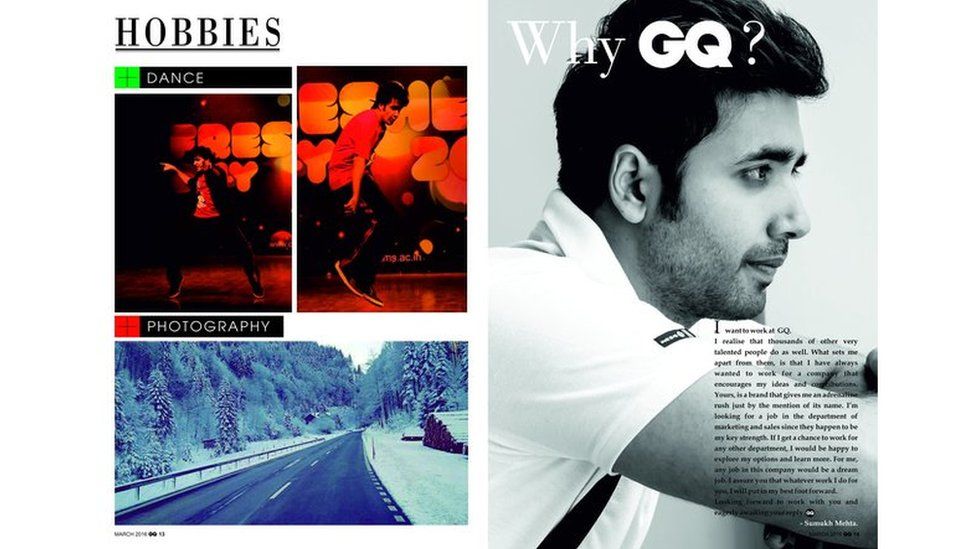 A graduate made his CV in the style of his favourite magazine to get the attention of its editor - and it worked.
Sumukh Mehta had been unsuccessfully job hunting for a while before he came up with the idea.
He took three weeks making his application look like an issue of GQ, the men's magazine.
His creativity paid off and the 21-year-old is due to start an internship in London later this year.
"I had been running a website for the past year where I help graduates and working employees convert their normal resumes [CV] into infographic resumes," explains Sumukh, 21, who currently lives in Bangalore, India.
He recently graduated with a business management degree from Jain University.
He explained that he wanted to make his application extra special.
"GQ had been on my mind for a long time. But when I checked the Conde Nast publication portal, it said that people who do not have a work visa or resident visa could not apply for a job role.
"I started thinking that if I send a normal resume, it'll end up in the bin. So I thought of portraying myself as a model on the cover and making a magazine which showcases my resume in a creative way.
"It took me three weeks to make the whole resume which included graphic design, a photo shoot and the content.
"I got the whole resume printed exactly like the original British GQ."
Sumukh says that three weeks after sending in his magazine-style CV, he got an email saying he had impressed the editor-in-chief, Dylan Jones.
He was offered a six-month paid internship, despite him not currently having a UK visa.
"A work visa was an issue, so I'll be taking up work placement experience maybe in the month of September or October if the visa issues get sorted by then," he explains.
He's also found his creative services suddenly in demand.
"Since the day the resume went viral, my messages are flooded with people from all the over the world appreciating my creativity," he continues.
"Now everybody wants an infographic resume!"
Find us on Instagram at BBCNewsbeat and follow us on Snapchat, search for bbc_newsbeat