Welsh woman on bus shuts down racist who told Muslim passenger to 'speak English'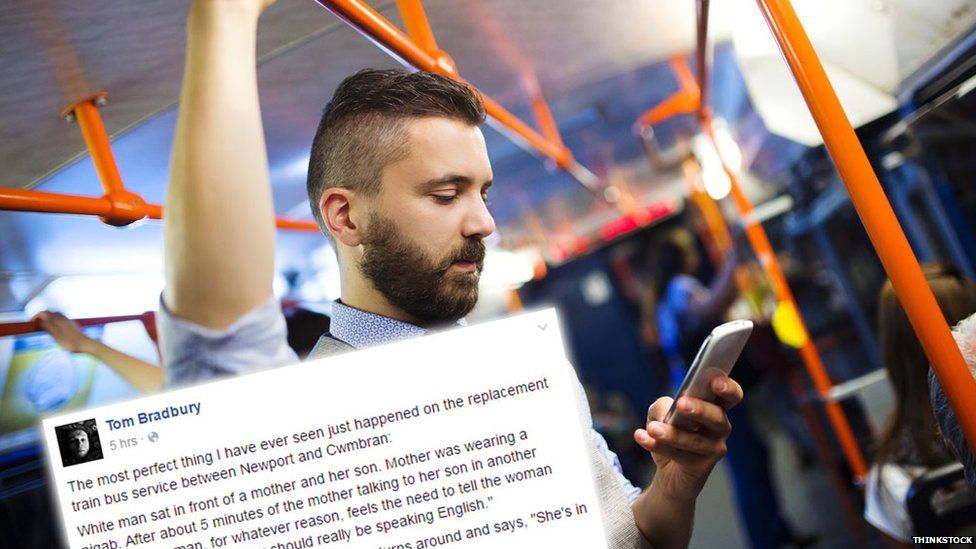 A Muslim woman was apparently told she "should really be speaking English" by a stranger on a bus, when she was actually speaking Welsh.
Fellow passenger Tom Bradbury says he saw the moment as he got a rail replacement bus from Cardiff to Newport.
He told Newsbeat that the man intervened as the woman chatted to her son.
But his putdown backfired when another woman said her words were Welsh.
"After about five minutes of the mother talking to her son in another language, the man, for whatever reason, feels the need to tell the woman, 'When you're in the UK you should really be speaking English.'" wrote Tom in his Facebook post.
"At which point, an old woman in front of him turns around and says, 'She's in Wales. And she's speaking Welsh.'"
Tom, 26, told Newsbeat that he isn't a Welsh speaker himself, but "the woman seemed to be joking with her son [and] making him laugh.
"Then the guy in front interrupted. He came across quite rude.
"I was surprised to hear someone come out and say something like that so directly."
"The woman's response was almost immediate, though.
"It made the few of us in the surrounding seats laugh and the guy seemed to shrivel up a little bit and mumble something to himself, but stayed quiet afterwards."
Tom, who runs an events company that puts on live music shows, says he wasn't paying much attention to the other passengers on the bus until he heard the man's comment.
"I've heard there are lots of similar stories from various places and that doesn't surprise me at all. I'm sure similar things have happened all over the world where ignorant people get called out," he added.
His post has now been shared nearly 20,000 times on Facebook.
Find us on Instagram at BBCNewsbeat and follow us on Snapchat, search for bbc_newsbeat