There have been 93 US gun-related deaths in 72 hours, not including Orlando
By Amelia Butterly
Newsbeat reporter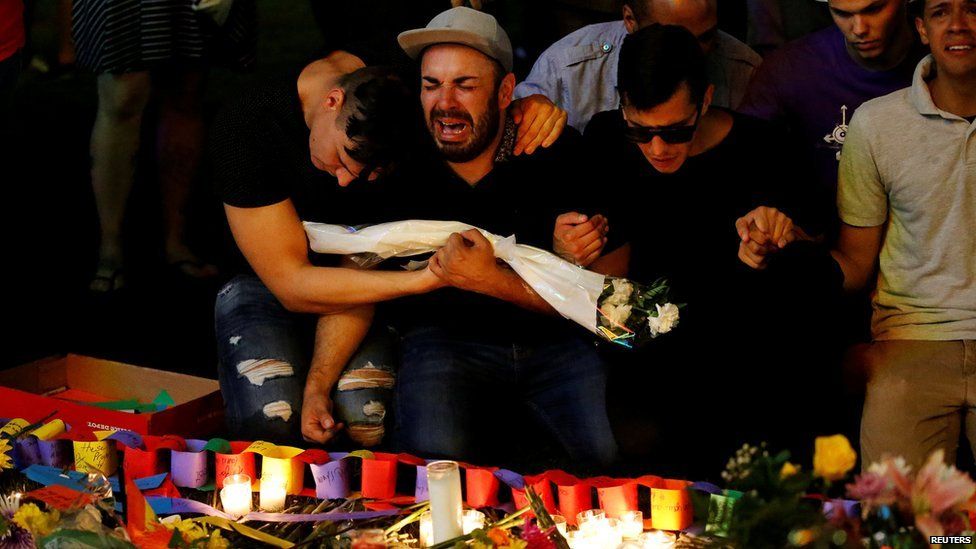 Omar Mateen also wounded 53 clubbers before being shot dead by police.
Now Gavin Newsom, Lt Gov of California and former mayor of San Francisco, is reminding people of the 93 other people who have died in the US in the last 72 hours in separate "gun violence" incidents.
The 25-year-old is thought to have been been playing Russian Roulette when he shot himself.
Five people died in a mass shooting in Roswell, New Mexico. Four of those were girls aged between three and 14.
Juan David Villegas-Hernandez, 34, is now charged with murder.
He is accused of killing his 34-year-old wife Cynthia Villegas and their four daughters - Yamilen, Cynthia Janeth, Abby and Ida.
In one mass shooting in Panorama City, California, two teenage girls and a man aged 20 died. Another woman was injured.
Mass shooting is defined by the Gun Violence Archive as a situation where four or more people are shot and/or killed in a single incident, at the same general time and location. The shooter is not included in this number.
Other records in the archive from the last 72 hours show deaths during burglaries, robberies, drive-by shootings and domestic violence.
These figures don't account for suicides where a gun was involved.
Of all the murders in the US in 2012, 60% were by firearm compared with 31% in Canada, 18.2% in Australia, and 10% in the UK.
It's not clear exactly how many guns exist in the US but the best estimates suggest a third of the population have at least one and there are a total of about 300 million.
That's nearly enough for every man, woman and child in the US to have their own gun.
The United States Constitution protects the right of people to keep and bear arms in the Second Amendment.
Organisations such as the National Rifle Associate passionately defend this right.
There have been vigils across the world, with thousands supporting the LGBT community, who were targeted by the Orlando shooting.
Along with messages of love, some carried placards and banners calling for a change to the laws surrounding guns in the US.
President Barack Obama said the "brutal murder of dozens of innocent people" was a further reminder of how easy it was to acquire a deadly weapon in the US and shoot people.
"We have to decide if that's the kind of country we want to be," said the president, who has campaigned for stricter gun laws.
"To actively do nothing is a decision as well."
Shootings are an "everyday" occurrence for the surgeons who treated the wounded in Orlando over the weekend.
In an interview in the US with CBS News, the team which operated on many of the injured was asked if the victims' gunshot wounds were "different from the kind of Saturday night gunshot wounds" they typically see.
"Well, certainly they are different than what we used to call civilian gunshot wounds, which are typically slower bullets, smaller bullets," said one of the surgeons, Michael Cheatham.
"But increasingly we're seeing gunshot wounds from high velocity, military-type weapons almost on a daily basis.
"So this type of injury is something we see every day, it is just not 44 patients."
Find us on Instagram at BBCNewsbeat and follow us on Snapchat, search for bbc_newsbeat