Adam Richman: Health concerns did not stop Man v. Food
By Rick Kelsey
Newsbeat reporter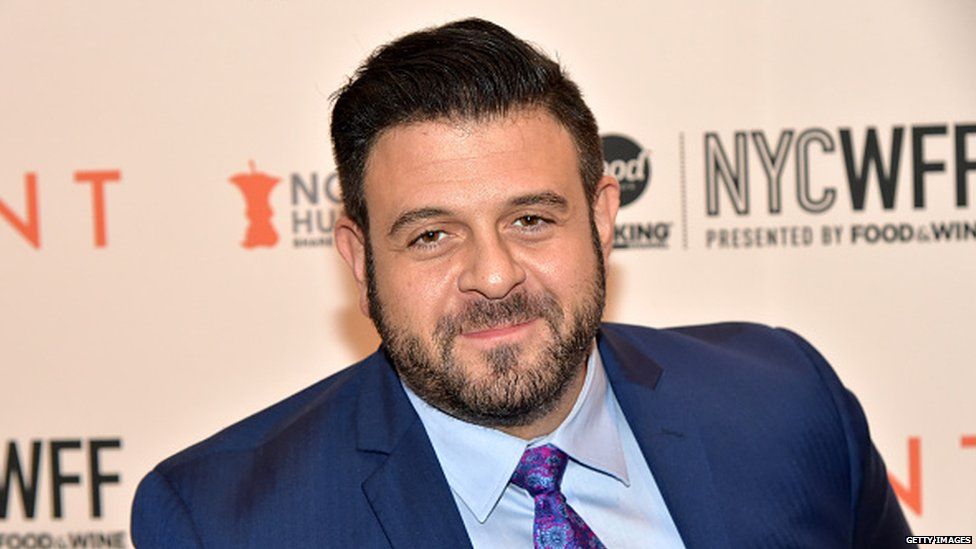 When he's watching Spurs the fans sing to him "he eats what he wants, he's Adam Richman he eats what he wants".
But eating what he wanted on the show Man v. Food is not the reason why the programme stopped.
We all heard the rumours and the myths about why the show came to an end.
Some stories suggested he was so unwell that his doctor told him to stop filming while other people said his body couldn't take anymore expansion.
Adam tells Newsbeat: "I'll take the 'he eats what he wants chant' as I kind of do.
"But the rumours about health concerns stopping the show are untrue."
Adam is currently filming a new food programme that comes out in the UK later in the year.
The food host started being a Tottenham Hotspur fan seven or eight years ago when someone sent him a video on based on the "100 greatest goals at The Lane".
They are now his biggest sporting passion.
Adam told us Man v. Food stopped for two main reasons, and despite the hundreds of thousands of YouTube hits and TV re-runs he won't be going back.
"I don't miss the physiological feeling after having a spicy challenge and having that much food in you."
He says he was amazed by some of the stories that have come out since Man v. Food finished.
"It was completely fictional. After 59 challenges. You have that sort of percentage of sick people who almost wanted to believe that [illness] happened to me."
The second reason was his desire to do other programmes. Adam's Man Finds Food is on Food Network throughout May.
"I just wanted to do off the grid restaurants, to showcase the amazing BBQ scene here [in the UK] and to find the best sandwich in America and so on."
He now splits his time between London and the US and gets to as many Tottenham games as he can, often stopping for a burger on the way.
Adam even shares texts with Spurs boss Mauricio Pochettino. The first meeting came after he sent the coach some food in the post.
"He hugs me and kissed me, I speak enough broken Spanish. He speaks better English.
"I've been doing wine menu's for a place in Argentina so I know Argentina really well."
Adam sent him a care package [a load of decent spices and meats] and received a text days later asking to meet up after a home game for a glass of wine.
The problem is the text didn't have a name on it.
"Then later on a second text came. It says 'by the way it's Mauricio Pochettino' and I was like 'got it I've heard of you.'"
Find us on Instagram at BBCNewsbeat and follow us on Snapchat, search for bbc_newsbeat