The dead water parks at the heart of Disney World Florida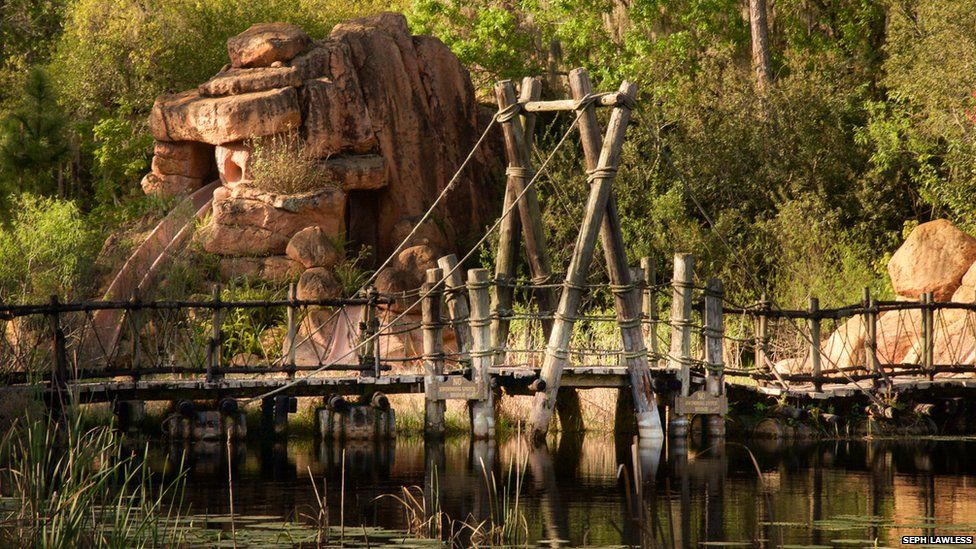 Just east of the Magic Kingdom in Walt Disney World, Florida, is a lake.
In the middle of Bay Lake is an island that Disney won't let anyone set foot on.
That's because Discovery Island is home to an abandoned park that they'd rather nobody saw.
Just across the water is another deserted park, River Country. These images show nature reclaiming what Disney left behind.
These are the only Disney parks to close permanently. Discovery Island was a nature reserve open between 1974 and 1999 and River Country, a water theme park, operated from 1976 to 2001.
Seph Lawless, who took the pictures, is a photo journalist from Ohio in the US.
He told Newsbeat he hopes releasing these images will convince Disney to clean up the park.
"I feel like Disney can do better, and I feel like they will.
"I'm not sure why [they've been shut] this long. Maybe because it's just been so hidden and not really talked about that much.
"This is prime real estate for them. It absolutely boggles my mind that they would not exploit and use this land in a positive way."
Looking at a map it's easy to see what Seph means.
Disney won't allow anyone near the abandoned parks, but they do rent out boats. According to Seph the island is well guarded - you're not supposed to get closer than 50ft (15m).
"When you're on Bay Lake you're almost chaperoned. They have several security people on boats that watch you. If you get too close to the island they push you away. They'll yell at you, they're constantly watching you.
"I probably did go in a little closer to the island than I should have."
That could be why Seph is now banned from Disney World, even though he didn't actually get on the island or in to River Country.
Seph however thinks there's been a misunderstanding. He used a drone-mounted camera for the close-up shots.
"I don't know if they just jumped the gun or if it's people commenting that I did [go on the island], but I never stated that I did and I never showed any images that I did".
Seph says he deliberately avoided making the area look ugly.
"Sometimes in the editing process I can be very creative and portray images creatively enough that they could be pretty powerful. In this case though I wanted it to be portrayed very beautifully.
"The goal here isn't just to say that Disney is ruining the land... The message is they built something, they benefited from it and then they just left it there to rot. They could have done something with that land that would have benefitted the environment and the existing wildlife."
Seph's been trying to find out why Disney hasn't done anything with the land.
"They didn't even have a clear response to that. One Disney employee said it's because the pollution from the nightly fireworks that they have and pollution from the fairs and boats. Others said that it's because of some kind of bacteria that caused a death in 1980."
He's referring to a story reported by Associated Press.
According to reports, an 11-year-old boy died after going swimming in River Country. An amoeba reportedly entered through his nose and attacked his nervous system. He hadn't been swimming anywhere else around the time of his death.
However, it would be unusual for that to be linked to the closure of the parks when it happened 19 years before either was closed.
Newsbeat has contacted Disney and is waiting for a response.
Find us on Instagram at BBCNewsbeat and follow us on Snapchat, search for bbc_newsbeat