The girl with bleeding eyes and ears - and no diagnosis
By Tracy Ollerenshaw
Newsbeat reporter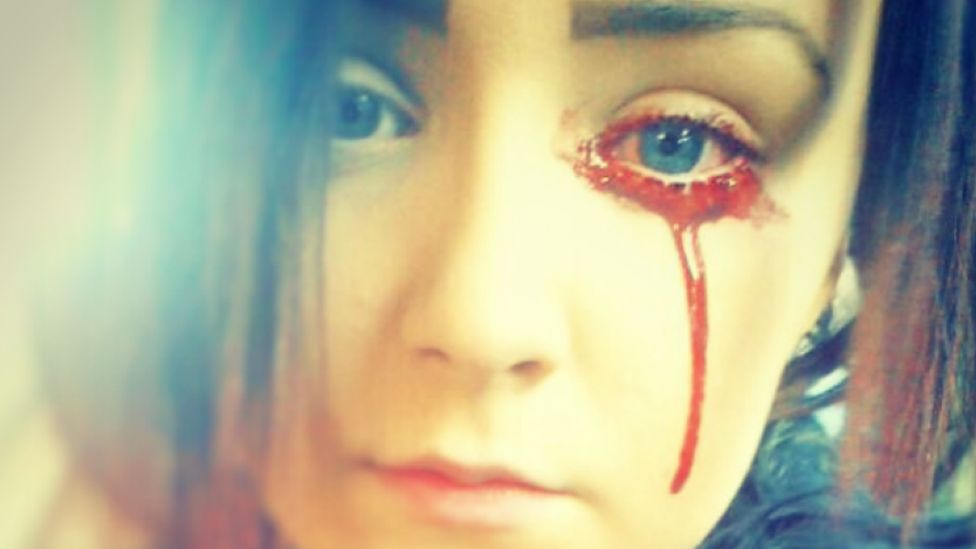 This is Marnie-Rae Harvey who bleeds from her eyes - but doctors don't understand why.
The 17-year-old says she can't really go out and has no friends any more because she's "always in the house".
She's seen eye specialists, gynaecologists, haematology experts, neurologists and paediatricians to try to find the cause.
"It burns and then if it covers the pupils of my eye I can't see," she tells Newsbeat.
The mystery condition also affects her ears, nose, gums, scalp, fingernails and tongue.
It all began when the teenager, from Stoke-on-Trent, started coughing up blood in March 2013.
That continued for a couple of years until she woke in the night in July 2015 with her face covered in blood. She was bleeding from her eye.
Her parents called an ambulance. "The paramedics were just shocked because they've never seen it before," she explains.
"When I got to the hospital they looked in my eye but everything was clear.
"They can bleed and it can cover my face with blood and in seconds it's just gone completely white back to normal.
"I had blood tests and they came back fine."
For the next two weeks her eyes continued to bleed every day.
"Then I was in the shop and both my eyes and ears started pouring and then we had to have an ambulance again."
Marnie-Rae had multiple tests, saw more specialists who found she had a "weakened" immune system but nothing more.
Haemolacria is the medical term for tears of blood - but it is rare.
Causes can include injuries, clotting problems and tear gland disorders - but Marnie-Rae has been tested for this and she was cleared.
The bleeding continued and the teenager says she's had to put her life on hold.
"I didn't manage to do my GCSEs and then I can't do college."
She says she lacks energy and constantly feels light-headed. Her limbs and bones often ache.
"People just stare and I can only walk so far without being sick. I was at the hospital the other day and people were trying to take pictures and saying 'urgh' about my face and stuff."
And recently the problem has worsened.
"The last 12 days it's been bleeding non-stop and everything's been bleeding at once.
"Normally it'll bleed for about five minutes then stop for an hour but it's been happening for half and hour and stopping for five minutes. I have to keep getting up in the night but I'm sick every day about five times."
"They thought it was going to be a blood disorder but now I've had an injection called Prostap 3 to 'stop my womb from working' and if it's that I'll have an operation because they'll look into endometriosis."
She was told there's a 60-70% chance the injection might stop her from being fertile in the future. "I'll be bothered about it but first I want to get this sorted."
Marnie-Rae has until mid-April to see if it's worked - but does she think it has?
"No, because the injection makes you go through menopause symptoms, I'm going through the symptoms like sweating and mood swings but I'm still bleeding."
Next she'll be referred to a skin specialist, but she doesn't think it's anything to do with her skin.
"When I'm due on [my period] that's when the bleeding gets worse. The gynaecologists say they'll carry on [testing]."
Find us on Instagram at BBCNewsbeat and follow us on Snapchat, search for bbc_newsbeat