Anonymous claims Twitter is shutting accounts which target the IS group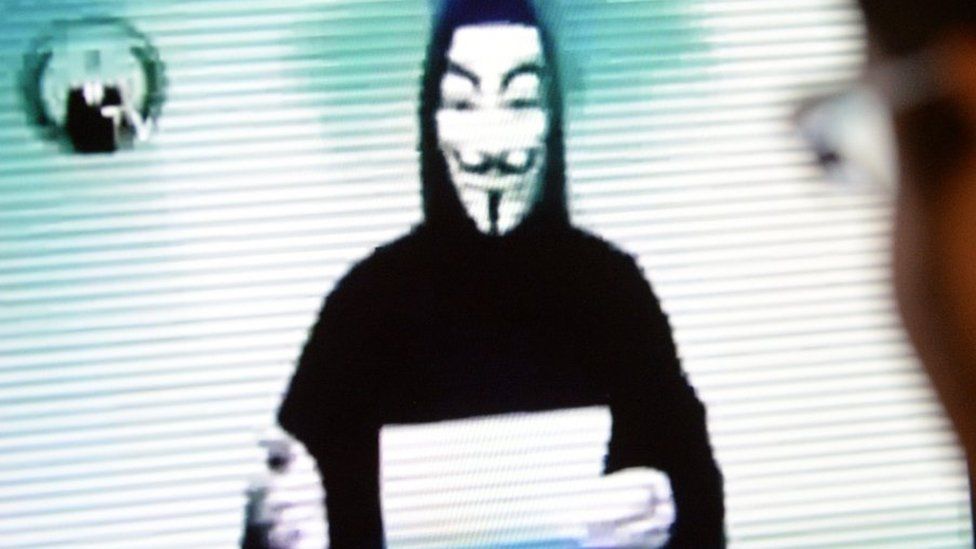 Online activists targeting so-called Islamic State on social media say Twitter has suspended accounts which were being used to harass the terrorist group.
It said they were blocked for "threatening or promoting terrorist acts, primarily related to ISIS".
"If we all stopped... Twitter would be flooded with terrorists," said WauchulaGhost who is part of #OpISIS.
Hackers from groups like Anonymous, GhostSec and Ctrl Sec publish lists of accounts which they claim belong to Islamic State group supporters and recruiters and call on the online community to report the accounts for suspension.
However, they say they are now the ones being targeted by Twitter, which recently strengthened its rules on online harassment.
A number of the hackers' accounts have been suspended, including some of the main accounts in the #OpISIS group.
Twitter has re-opened some of the accounts after being sent requests to do so by other hackers and supporters.
WauchulaGhost, who had his account temporarily suspended in February, told The Epoch Times that he's still not sure what happened which led to the suspension or ensure its reinstatement.
In January, US widow Tamara Fields filed a court case against Twitter after her husband was killed in Jordan in an IS attack.
She accuses the social network of facilitating communication between terrorists and fuelling the growth of IS.
According to a George Washington University report published in December last year found: "Social media plays a crucial role in the radicalisation."
It suggests Twitter and Facebook are the two main platforms used by IS supporters to spread their propaganda.
The report also found the suspensions Twitter had put in place were having an impact on the propaganda reach of IS among its English-speaking supporters.
Find us on Instagram at BBCNewsbeat and follow us on Snapchat, search for bbc_newsbeat