New dating app 'WooPlus' aims to be Tinder for plus-size people
By Stephen Humphries
Newsbeat reporter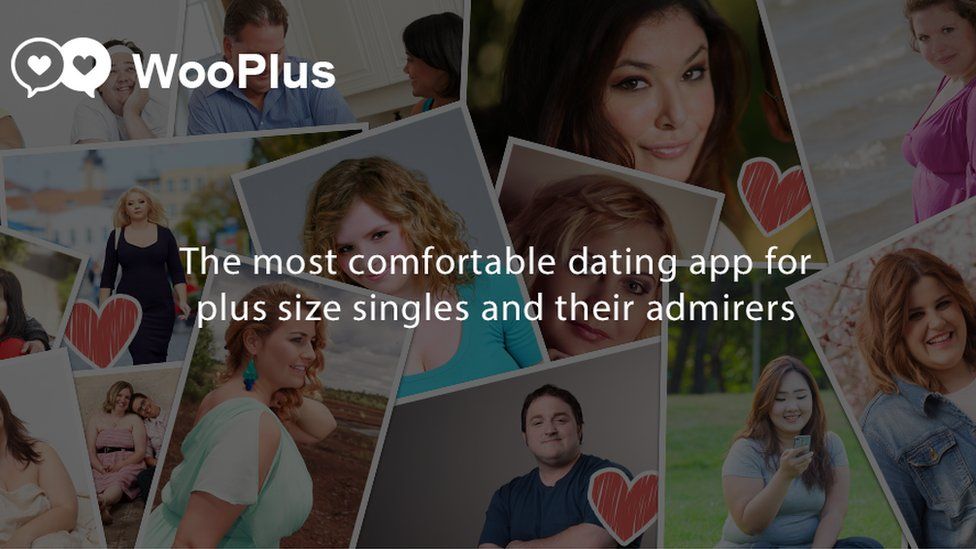 There's a new dating app targeting plus-size people and their admirers, to rival Tinder, Grindr, Happn and match.com.
"WooPlus" has just passed 10,000 users and promises to "create a positive dating experience for people with bigger bodies".
It was created by Neil Raman, from San Francisco in the US, whose sister was "having trouble in the dating world".
He says it seemed "painful and unfair".
The app allows single people to make compatible matches with those who are happy to be matched with potential partners of all sizes.
In the past, niche dating apps have been criticised for keeping different types of people apart - or promoting fetishes.
"The unfortunate reality is that the current dating environment is very cruel to bigger girls," Raman told the Mirror newspaper.
WooPlus user Ajeet Luhach told Newsbeat that he signed up to the app because he finds it "difficult to find women of bigger sizes".
Like Tinder you'll need to have a Facebook account to join WooPlus but you will also be asked a series of questions as you creating your profile.
The list of options range from slim to supersized with categories for body types such as "average", "athletic" and "chubby".
You're then asked: "What's your body shape?
This is where it gets confusing, if you're simply just an admirer of the bigger size.
The options are: inverted triangle, rectangle/banana, rounded/apple and triangle/pear - which box would you tick?
WooPlus allows you to select your own interests, taken from your Facebook profile, like Tinder.
Categories include hobbies and lifestyle, sports, food and drinks.
The app also asks users to confirm ethnicity, occupation and whether or not they smoke or drink.
There's also an option to add your height, annual income, religion and, if you have any, children - but only if you want to.
If you've been on Tinder before, you'll know how this next part goes...
The profiles of others appear one at a time and you can either choose to "swipe" one way or another.
Swiping left means pass, without making the person aware, and swiping right allows you to "like" the person to potentially make a match.
If matched with someone, you can message each other, fall in love and live happily ever after... if you're lucky.
But there are other things that could help...
WooPlus also gives you the ability to upload images onto a feed.
Other users can like and comment on your images, regardless of whether you've swiped left or right, or haven't even swiped across them before.
The app only gives you a certain amount of sessions in a day.
Even if you haven't made a match you're still told: "Oops! No more rounds today".
A criticism that niche apps often receive is that they are making their members objects of sexual fetishes.
But the team behind the app insist that WooPlus offers a safe and comfortable space to let love in, and those who violate its strict policy will receive a permanent ban.
The app allows you to provide feedback and you can even block your matches too.