Twitter launches Moments feature in the UK for 'day's biggest and best stories'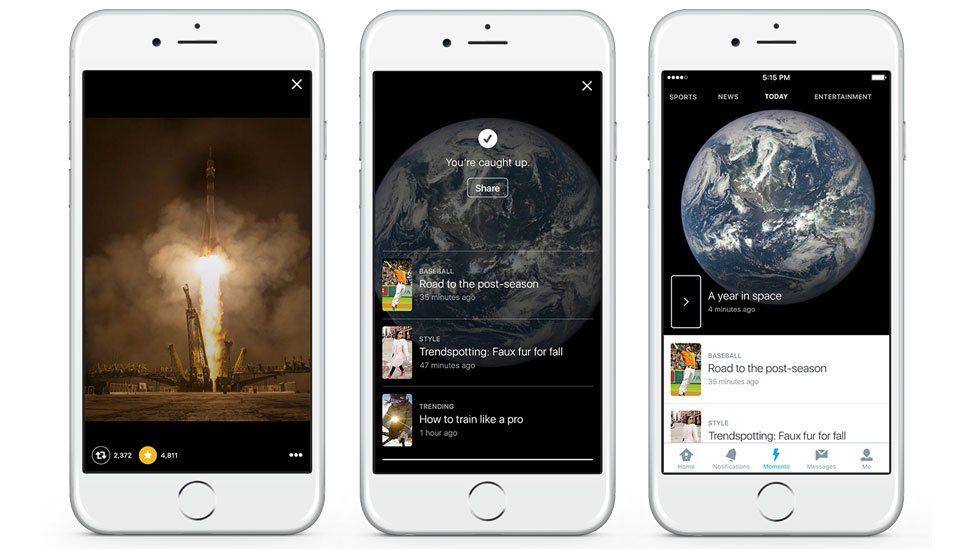 Twitter's launched a new feature in the UK called Moments which makes it easier to find the "best" posts on the day's stories.
Curators will group together interesting tweets on single subjects - which you can then read, even if you don't follow the people tweeting them.
Moments will appear in a special "lightning" tab next to notifications rather than on your timeline.
It's hoped it'll appeal to people who find Twitter confusing to start with.
The Moments tab will be divided into sections including news, sports and entertainment and was initially launched in October for US users.
But it doesn't have to be for serious stories...
To open Moments, you have to click on a lightning bolt icon. You'll then see a list of stories "that matter right now".
When you click into an individual Moment, you can then start swiping through a collection of tweets, videos, GIFs, photos and Vines - all on the same subject. These moments will last about a day.
You can tap into individual tweets and then do all the normal things like favouriting or re-tweeting.
It's hoped it'll be especially popular for breaking news and live sport.
In a blog post on the subject Twitter says Moments will be constantly updated with new information and you can "follow" a moment.
"For stories that update very frequently - like live sporting events or awards shows where it's critical to know what's happening minute by minute - you'll see an option to follow the Moment, which blends the Tweets directly into your timeline.
"That way you can keep track of the latest updates in real time without having to tap back and forth between tabs. When that story ends, so do the Tweets, leaving your timeline just as it was before."
The UK is the first European country to roll it out. Twitter has 15 million active users in the UK.
But like tweets, Moments can be shared anywhere.
Twitter has been planning Moments for months. It's been struggling to get more people to use the service and is aware that some people find it confusing.
It's hoped putting related tweets all in once place will be more appealing.
Madhu Muthukumar is Twitter's project manager for Moments.
"We know finding these only-on-Twitter moments can be a challenge, especially if you haven't followed certain accounts. But it doesn't have to be."