These young women are fighting against groping at gigs
By Sinead Garvan
Newsbeat music reporter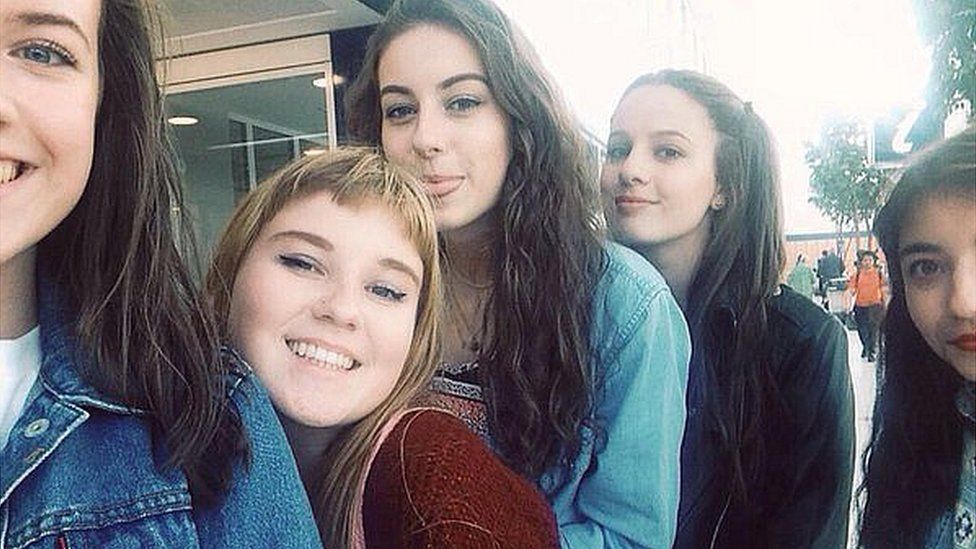 These five young women have all been groped at gigs and now they are doing something about it.
They have formed a group called Girls Against and have already got support from Slaves, Wolf Alice and Peace.
They say they want to raise awareness of the issue and get more bands to talk about it so attitudes change.
Girls Against say that if other artists tell fans it's wrong, people who do it will feel stupid if their favourite band is calling them out about it.
The group was set up after 17-year-old Hannah Camilleri says she was inappropriately touched at a concert in Glasgow.
"I was in shock," she tells Newsbeat. "I didn't really know what had happened and I didn't tell my friends, which is unusual for me."
Hannah says she had got to the front of the gig and was right up against the barrier. It was a busy gig and people were pushing.
"The crowd kept shifting because people were jumping about and this group of guys ended up behind me," she explains.
"I was wearing an A-line skirt and it was made of quite thin material so it had ridden up a bit.
"But I didn't think anyone would notice or care because there was a band playing five metres away.
"One of them put their hand on my waist and every time I tried to push him away he would push his full body weight into the barrier.
"I am not a very big person so I couldn't do anything."
She explains: "He kept trying to put his hand into my tights because my skirt had ridden up so far.
"Every time I tried to brush his hands away he just forced me into a situation where I couldn't move.
"This lasted for about five minutes and then the crowd moved again and he was gone."
Hannah texted her friend, who was seeing the same band a couple of days later. Her friend screen grabbed the message and tweeted it.
Harry Koisser from Peace then saw the post and warned fans who "think this is OK" not to come to future gigs.
"If this happens at a Peace show tell me or security ASAP. If you think this is ok then please I beg you do not come," he wrote.
From there it took off and the girls decided to form Girls Against.
They say they receive lots of messages every day from other fans who have had similar experiences, some of which they describe as "harrowing".
And other bands have also shown their support for the girls' campaign and are helping raise awareness.
Slaves used Facebook to voice their "disgust" at "this kind of behaviour".
Newsbeat has since spoken to Slaves and they say they will stop a gig if they see groping happening in the crowd.
The group now wants more bands to warn their fans.
"If a discussion is started then the people who do this are less likely to, because they know they are more likely to get pulled up for it," says Anna Cowan, another member of Girls Against.
Simon Battersby is the director of Showsec, which runs security for venues across the UK.
He doesn't believe it is a widespread problem and says it's not enough to make significant changes to the way Showsec operates.
"It does fall in line with any kind of assault or anti-social behaviour, in that we ask people if they experience it to move away and certainly to ask for help," he told Newsbeat.
We asked him about fans who say they have felt ignored by security staff when they made complaints. He said that was completely unacceptable.
"We wouldn't be advocating the 'shrugging of their shoulders attitude' because clearly it is a serious issue.
"We brief our staff very firmly to take action where they can.
"We have the use of CCTV in some venues and the use of guys in spotting positions.
"So long as people can give us a good description and an account of what happened, we will do everything we can do to take it further."
Assistant Commissioner Martin Hewitt from The National Police Chiefs' Council said: "It is important that we recognise that all sexual assaults are assaults and calling it groping doesn't make it any less serious.
"These incidents should not happen and I support any action to sensibly tackle these crimes."
The members of Girls Against have chosen to make their stories public.
If you need support and help on dealing with abuse, check these BBC Advice pages.