Tomb Raider: How Lara Croft became a human being
By Steffan Powell
Newsbeat reporter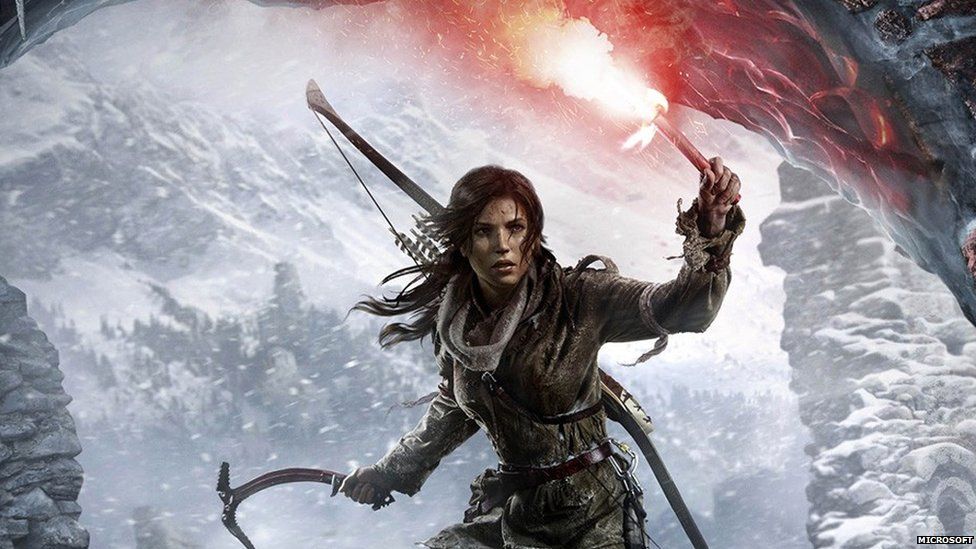 Lara Croft first burst onto our consoles in 1996.
With her brown ponytail, turquoise tank top and dual pistols she fast became one of the most famous faces in gaming.
In 2013 she was re-booted with the game's director Bryan Horton telling us they were "reimagining Tomb Raider for a modern audience".
He says they wanted to give Lara "a well of emotional depth". But how do you turn an icon into a real person?
Well according to Bryan it starts with the writing.
"We work very closely with writer Rhianna Pratchett who brings a voice to her," he tells Newsbeat.
"She's a human being and that's central. She has to feel grounded even though she's doing fantastical things.
"She has to act and react in a way that you'd expect someone would.
"Lara feels very current and modern," says Bryan.
Rhianna Pratchett wrote for the character in the 2013 game Tomb Raider when Lara was rebooted - and also for this new title.
She told Newsbeat: "She's a bit more confident now.
"She's just trying to work out who she is, where she's going and make peace with that."
Bryan and the developers also teamed up with Grey's Anatomy actress Camillia Luddington (who played the Duchess of Cambridge in the movie William and Kate) to bring Lara to life.
Bryan says: "As far as creating a woman's voice for Lara, it's the merger together of the two [writing and acting].
"Along with, of course, the artists who bring the character to life on screen."
Lara Croft has been a fan favourite ever since her first outing on the PlayStation nearly 20 years ago.
Lora (not Lara!) says she's played many of the Tomb Raider games because she "loves that there's a strong female character dominating the gaming industry".
"I like the smart, brave adventurer. She has no fear and has the confidence to achieve anything."
Yasmin got in touch with Newsbeat to say she's a Lara Croft fan because she's "intelligent, resourceful and confident".
She thinks the character has "made these traits sexy and desirable for other women".
Previously famous for the way she looked Bryan Horton says they hope that they've now created a human being for people to relate to.
"You want to retain some of the iconic features, be it the brown eyes or the ponytail.
"But ultimately it wasn't the clothes she wore or her physique. It's what she did in the game and her determination.
"We wanted to give her a well of emotional depth. She's a character with incredible smarts, she's driven but ultimately she's a human being," he says.
Rise of the Tomb Raider is now available on Xbox One and Xbox 360