Shia LaBeouf livestreams himself and six other strange moments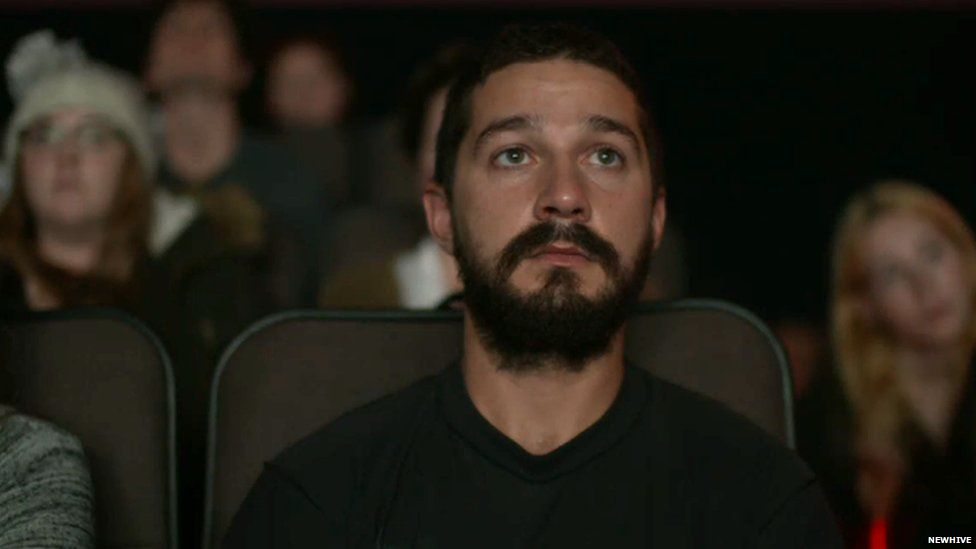 Shia LaBeouf is filming himself watching himself on the big screen. As you do.
He'll be watching his blockbusters including Transformers, Indiana Jones, Holes, Surf's Up, Disturbia and many more for three days.
He has also invited New Yorkers to come and join him for free at the city's Angelika Film Centre.
With the camera focused on just his face, viewers can spend 72 hours staring at him staring at something else.
And he even took a break to thank fans.
He wrote on a nearby wall: "Thank you so much. I am aware of how crazy this whole thing is - thank you for your faith."
From the kooky kid in Disney's Even Stevens to worldwide movie stardom, Shia has now become known for his bizarre stunts.
Here are six of the best...
The "Just Do It!" motivational speech
Shia intensely (and loudly) encourages viewers to not "let their dreams be dreams". He manages, in just over a minute, to rant, contort, shout, double over, and pull invisible bird seed out of his palm.
Wearing a bag on his head
Turning up to the Berlin Film Festival in 2014, Shia arrived with a paper bag on his head with the words "I am not famous anymore" scrawled over it.
This was followed up by his own art installation in Los Angeles where he sat crying silently, with the bag on his head.
Seagulls, sardines, and Eric Cantona
During a press conference for his controversial film Nymphomaniac, the 29-year-old actor stormed out.
But not before delivering a speech ripped off from football legend, Eric Cantona.
The quote - "When the seagulls follow the trawler, it is because they think sardines will be thrown into the sea."
The Shia Labeouf cannibal song
LA songwriter Rob Cantor created a track about the actor that went viral.
The catchy Shia LaBeouf song decides, for some reason, to sing about "actual cannibal Shia LaBeouf" who is "living in the woods, killing for sport and eating all the bodies".
Shia even turned up himself for this live performance.
Shia Labeouf motorcycle stare down
Uploaded on YouTube by user philipjcaputo, this short clip captures the moment LaBeouf stared down a motorcyclist at a red light.
Philip says after this moment: "We exchanged pleasantries, the light turned green, and we drove on."
Sia's controversial music video
Shia started 2015 with a bang with this dance performance in Sia's Elastic Heart music video.
The interpretive dance cage battle left Sia apologising for the controversial casting.