How Facebook knows who you might be dating online
By Jay Cockburn
Newsbeat reporter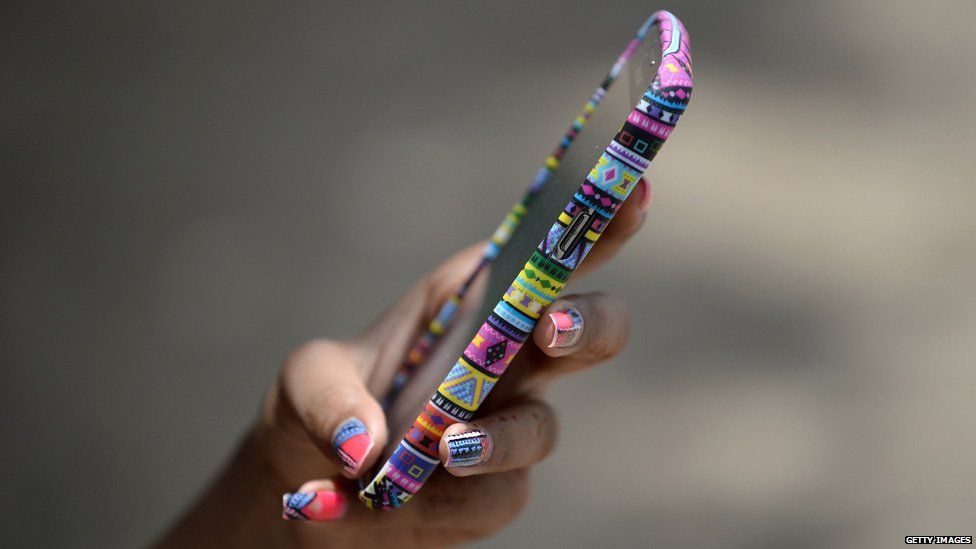 Users of dating apps have expressed concerns about their privacy after their matches appeared as "suggested friends" on Facebook.
It's happened on apps like Tinder and Grindr and people we've spoken to have called it "creepy".
"There are people whose name might just show up as 'looking'," 26-year-old Dale told Newsbeat.
"And then suddenly you see them on Facebook," he said.
Dale explained that his Grindr profile isn't linked with his Facebook account but he says he still gets people he's spoken to suggested to him.
"I know what their full names are and I'm thinking 'I recognise these'.
"[On] Grindr you control your privacy, you don't put all your information on there like you would on Facebook… you don't really know who these people are.
"I've had bad experiences with people on Grindr in the past - I don't really want them finding out my last name, which area I'm from… it's a bit uncomfortable really."
Thea says she had one match repeatedly popping up even though she had clicked the button to remove him from her suggested friends every time. They had never even swapped numbers.
"I find it quite annoying, especially if the person was awful in real life and I have no desire to see them again."
Another Tinder user, Shaun, told Newsbeat that he had two friend suggestions whose only connection was their match on Tinder - they had no mutual friends on Facebook and he hadn't done a pre-date Facebook "stalk".
His mobile number is linked to his Facebook account but they hadn't swapped numbers before his matches appeared in the "people you may know" section.
It's not just Facebook either. Alina swapped numbers with someone she met on Tinder, went on one date and swiftly forgot about them.
A year later (and with a new phone number) she saw their face appear in her "people you may know" section on the professional social network LinkedIn.
"I'm pretty much weirded out by the internet on a daily basis… but in particular this made me feel creeped out."
Daniel Cuthbert is the chief operating officer at SensePost, a security research company.
He says this whole issue is mainly down to your phone number.
He explains that among a bunch of other algorithms, Facebook goes through your phone book and checks them against other users' phone numbers - you give it permission to do this when you install the app.
"What Facebook does and what Tinder does is go through your phone book, upload your phone book and does cross-correlation between your numbers and anyone else's number - and suggest people based on that," he explained.
So if you don't want to be found, how do you avoid this happening?
Security analyst Paul Amar suggests you create a "fake Facebook account" specifically for online dating.
"Don't use your real phone number or full name, and don't link it to any of your other online profiles, only using this profile for all your online dating activity."
Unfortunately this is against Facebook's terms of service, so fake accounts risk being deactivated.
A spokesman told Newsbeat: "We do not use information from third party apps [like Tinder and Grindr] to show you friend suggestions in People You May Know.
"People You May Know are people on Facebook that you might know. We show you people based on mutual friends, work and education information, networks you're part of, contacts you've imported and many other factors.
"People have choices that help manage how they can be found on Facebook. For instance, you can filter who can send you friend requests, and also who can look you up on Facebook using the email address or phone number you provided."
While a spokesperson for Tinder told Newsbeat: "If you choose to allow permission, Tinder accesses your Facebook friends list to establish whether you have any common connections with your potential match on Tinder.
"Tinder does not provide Facebook with match information that is in turn used in Facebook's friend recommendations and cannot speak for other information considered in Facebook's friend recommendations."
Grindr also gave us a statement.
"We are focused on the privacy of our users. Because we want to create a safe and comfortable experience for each user, we therefore do not share any information with Facebook nor Instagram.
"Although users themselves can share desired social links on their Grindr profiles, we have specifically excluded the option to log into the Grindr app using Facebook authentication and do not collect phone numbers to continue our 'closed system' policy."